Have you ever wanted to walk on the clouds, where the beauty of the heavens and the earth is on full display? If so, the Sandakphu Trek is a journey that begs you to embark on it. This extraordinary trip to West Bengal, India's highest peak, is an experience unlike any other, promising priceless memories and a closer bond with the majestic Himalayas.
Why you should Experience Sandakphu Trek?
Witness the Panoramic Playground:
Sandakphu, standing tall at 3,636 meters (11,929 feet), offers an awe-inspiring vantage point where four of the world's tallest peaks – Everest, Kanchenjunga, Lhotse, and Makalu – come together in an ethereal dance of clouds. This unparalleled 360-degree view from the summit will leave you spellbound, capturing the essence of Mother Nature's finest handiwork.
Embrace Diversity:
Set out on a journey through a kaleidoscope of landscapes. The journey begins in lush green forests alive with exotic bird calls and fluttering prayer flags. As you climb higher, the scenery changes to a rugged terrain of rhododendron forests and alpine meadows, drenched in vibrant colors. The combination of diverse terrains ensures a constantly changing canvas of beauty.
Connect with the Sherpa Culture:
The Sherpa community, known for its rich culture and deep-rooted traditions, lives in the Sandakphu region. Interact with these resilient people, learn about their way of life, and sample the local cuisine. Their warm hospitality and mountaineering feat stories will inspire and enrich your trekking experience.
A Journey of Self-Discovery:
The journey to Sandakphu is not only physical but also spiritual and emotional. The tranquil ambiance, away from the hustle and bustle of city life, allows for plenty of introspection. You may find clarity, rejuvenation, and a deeper connection with yourself in the solitude of the mountains.
Challenge Your Boundaries:
The Sandakphu trek requires a reasonable level of fitness and determination. Each step forward on this journey is an accomplishment, and each stride forward tests your physical and mental limits. Conquering this trek will give you a sense of accomplishment and confidence to take on other life challenges.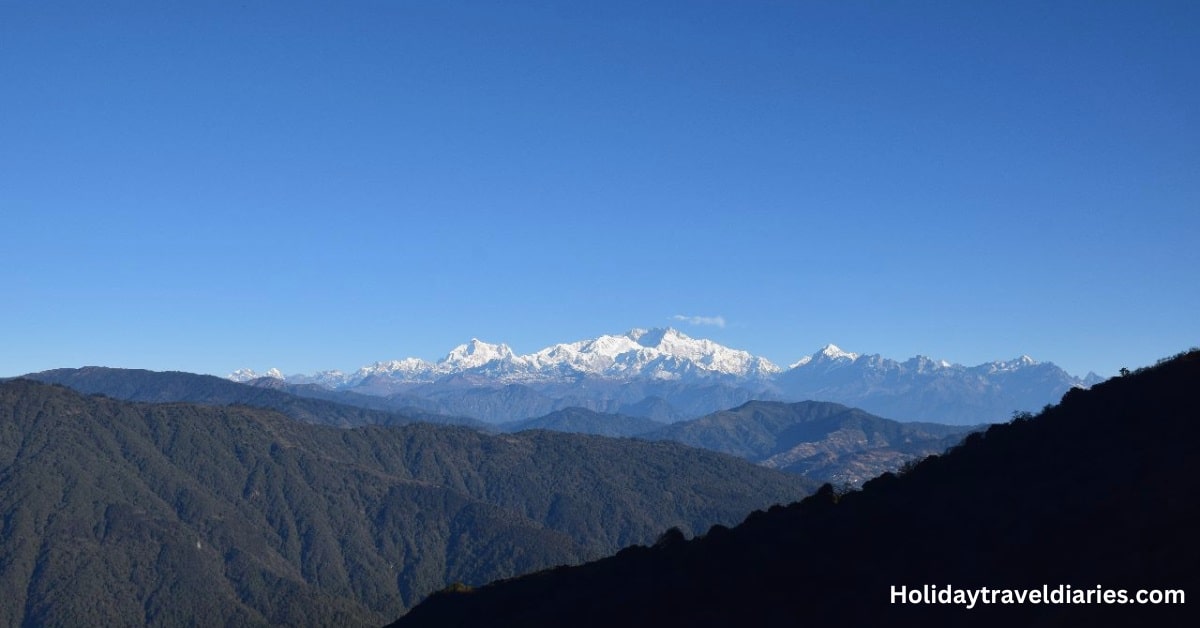 Who are eligible for the Sandakphu trek?
Every year, it attracts a large number of adventure seekers and nature lovers as one of the most popular treks in the Eastern Himalayas. However, it is essential to understand who is eligible to embark on this incredible journey. In this article, we will look at the criteria that determine who is eligible for the Sandakphu trek and how to ensure a safe and enjoyable experience.
Physical Fitness:
Without a doubt, physical fitness is an important factor in determining eligibility for the Sandakphu trek. While the Sandakphu trek is considered easier than other high-altitude treks, it is recommended that you engage in regular physical activities such as walking, jogging, or hiking before embarking on the journey to build stamina.
Age and Experience:
The Sandakphu trek is appropriate for people of all ages as long as they are physically fit and healthy. While there is no set age limit, participants should be at least 12 years old to fully enjoy and appreciate the trek.
Medical Considerations:
Because the Sandakphu trek involves ascending to high altitudes, people with certain medical conditions should proceed with caution and seek medical advice before attempting the trek. Respiratory disorders, heart ailments, high or low blood pressure, asthma, epilepsy, and severe allergies are all medical conditions that must be carefully considered. To evaluate individual fitness levels and potential risks, it is always best to consult a healthcare professional.
Mental Preparedness:
While physical fitness is important, mental preparation is equally important for a successful trek. The Sandakphu trek presents unique challenges, such as long hours of walking, changing weather, and basic lodging facilities. Trekkers must be mentally prepared to face these challenges and keep a positive attitude throughout the journey.
Trekking Permits and Guidelines:
Before embarking on the Sandakphu trek, it is critical to obtain the necessary permits and adhere to the local authorities guidelines. It is best to contact local trekking agencies or tour operators who can help you obtain permits and provide information on the trek's rules and regulations.

Best time to visit Sandakphu
The majority of people are confused about the Sandakphu trek best time. Sandakphu, located in the breathtaking Eastern Himalayas, is a trekker's paradise with breathtaking views of the world's highest peaks. The best season to embark on the Sandakphu trek is crucial for an unforgettable and awe-inspiring experience. This article will delve into the various seasons and reveal the absolute best time to embark on this incredible journey, taking into account weather conditions, temperature, and overall trekking conditions.
Spring (March to May):
The Sandakphu trek is especially appealing in the spring. The weather is generally pleasant during this season, with temperatures ranging from 5°C to 15°C. Spring is an excellent time to see the Himalayan flora in full bloom, creating a vibrant and picturesque ambiance.
Summer (June to August):
Summer brings the monsoon season to Sandakphu, making trekking during this time a unique and challenging experience. While the landscape transforms into a lush green paradise, heavy rains can make the trails slippery and may obstruct the breathtaking views.
Autumn (September to November):
Autumn is widely regarded as the best time to walk the Sandakphu. The weather is stable and clear at this time of year, allowing for breathtaking views of the snow-capped peaks. The cool climate, with temperatures ranging from 2°C to 10°C, is ideal for trekking and allows for comfortable exploration of the trails.
Winter (December to February):
Winter in Sandakphu is both magical and challenging for trekkers. The region is blanketed in snow, transforming it into a winter wonderland. Sandakphu Trek in winter, on the other hand, necessitates advance planning, proper cold-weather gear, and experience in extreme conditions. If you are thinking about Sandakphu Trek in December please remember that the temperature drops below zero, frequently reaching -5°C to -10°C.
While each season in Sandakphu has its own allure, the autumn season from September to November is the absolute best time for the Sandakphu trek. The clear views of the majestic Himalayan peaks, combined with the vibrant hues of the landscape, make for an unforgettable journey.
How to Reach the Base of Sandakphu
Reaching the base of Sandakphu, with its majestic views of the world's highest peaks, including the mighty Kanchenjunga, is the first step towards an unforgettable trekking experience. This article will walk you through the various transportation options available to get to the base of Sandakphu and begin your journey into this enchanted realm.
Bagdogra Airport to Sandakphu Base:
The nearest airport to Sandakphu is Bagdogra Airport, located in the state of West Bengal, India. From Bagdogra, you can embark on a scenic road journey to reach the base of Sandakphu. When you arrive at Bagdogra Airport, you can take a taxi or a shared cab to Manebhanjan, which is about a 4- to 5-hour drive away. Manebhanjan is the starting point for most trekkers and serves as the gateway to the Sandakphu trek.
New Jalpaiguri (NJP) Railway Station to Sandakphu Base:
The New Jalpaiguri (NJP) Railway Station is the closest major railway station to Sandakphu for those traveling by train. You can take a road from NJP to the base of Sandakphu. When you arrive at NJP Railway Station, you can take a taxi or a shared cab to Manebhanjan, which is about a 4- to 5-hour drive away.
Siliguri to Sandakphu Base:
Siliguri, another major city in West Bengal, serves as a transportation hub for reaching Sandakphu. From Siliguri, the process is the same as from NJP and Bagdogra.
Manebhanjan to Sandakphu Base:
Once you reach Manebhanjan, the base of Sandakphu, there are further transportation options to reach the starting point of the trek.
By Jeep: Shared or private jeeps are available from Manebhanjan to Sandakphu. The journey takes around 4 to 5 hours and offers a scenic drive through the rugged terrain of the Eastern Himalayas. We will discuss this in detail below.
On Foot: For the more adventurous souls, you can choose to trek from Manebhanjan to Sandakphu. The trek takes approximately 3 to 4 days, covering a distance of around 32 kilometers. It is a moderate-level trek suitable for trekkers of varying experience levels. We will discuss this in detail below.
Decoding the Challenge: How Difficult is Sandakphu Trek?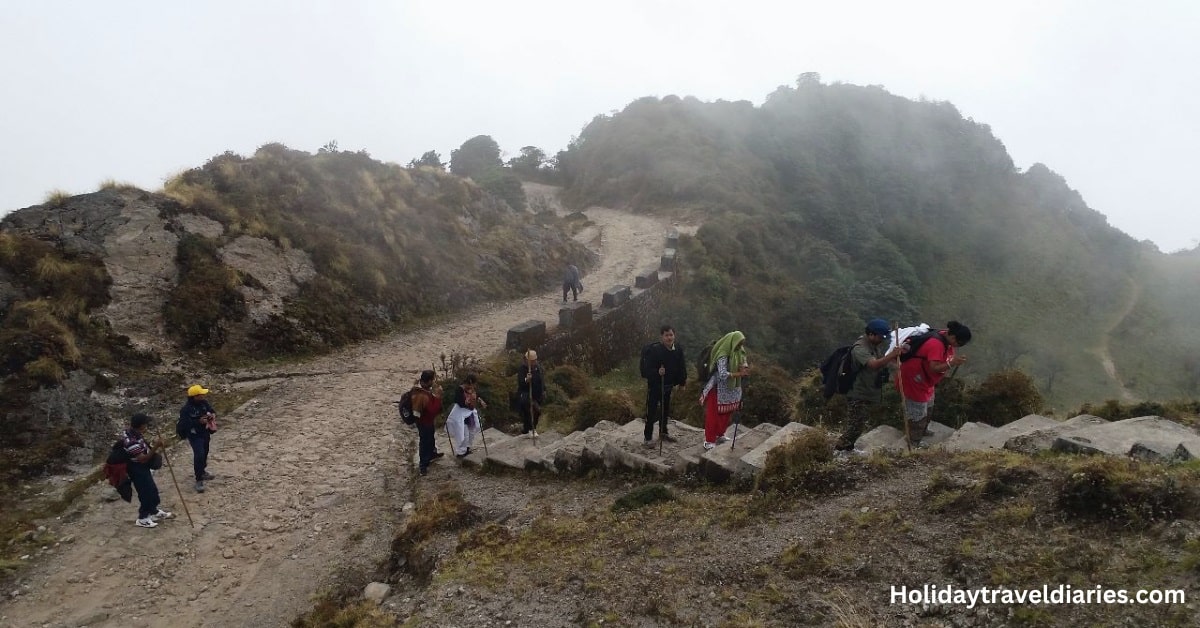 Is Sandakphu trek for beginners? As you prepare to embark on this thrilling journey, it's essential to understand the trek's level of difficulty. We will decode the challenges and terrain of the Sandakphu trek in this article, allowing you to gauge the level of difficulty and make informed decisions about this incredible adventure.
Moderate Difficulty Level:
The Sandakphu trek is generally regarded as moderately difficult. It is appropriate for both experienced and inexperienced trekkers with a reasonable level of physical fitness and stamina. While there are challenges along the way, they are manageable with proper preparation and a positive attitude.
Distance and Duration:
The Sandakphu trek is approximately 32 kilometers long and takes 4 to 6 days to complete, depending on the route and pace chosen. The trek entails several hours of walking each day, with varying terrain and altitude gains.
Altitude Variation:
The variation in altitude is one of the most difficult aspects of the Sandakphu trek. The trek begins in Manebhanjan at around 6,400 feet (1,950 meters) and gradually ascends to Sandakphu at 11,941 feet (3,636 meters). Shortness of breath, fatigue, and headaches can occur as a result of altitude gain. The trek, on the other hand, is carefully planned to allow for acclimatization and gradual ascent, reducing the risk of altitude sickness.
Steep Ascents and Descents:
The journey to Sandakphu includes several steep ascents and descents. The trails can be difficult, especially in sections where the incline is steeper. Trekkers must be prepared for uphill climbs and exercise caution when descending on potentially slick paths. To better navigate these sections, prior experience trekking on uneven terrain is recommended.
Weather and Temperature:
The weather and Sandakphu temperature are major factors that contribute to the difficulty of the trek. The region experiences a variety of weather conditions, including cold temperatures, strong winds, and rain on occasion. Trekkers must be prepared for changing weather patterns, pack appropriate clothing layers, and have rain gear to ensure comfort and safety.
Basic Accommodation and Facilities:
The accommodation facilities on the trek are basic and may lack amenities such as electricity and running water. Trekkers should mentally prepare themselves for basic guesthouses or tea houses along the way. The rustic charm of these accommodations, on the other hand, adds to the adventure and provides a one-of-a-kind experience of staying in the lap of nature.
The Sandakphu trek is moderately difficult, making it suitable for trekkers of varying levels of experience. While physical and mental fitness is required, trekkers who are reasonably fit and have a sense of adventure can complete this incredible journey. Before embarking on the trek, it is recommended that you engage in regular physical activities such as walking, jogging, or hiking to build stamina and endurance.
Exploring Sandakphu by Car
A car tour from Manebhanjan is an excellent choice if you want to experience the stunning beauty of Sandakphu in a more convenient and comfortable manner. Sandakphu, located in the mesmerizing Eastern Himalayas, offers panoramic views of the world's highest peaks, making it a dream destination for nature lovers.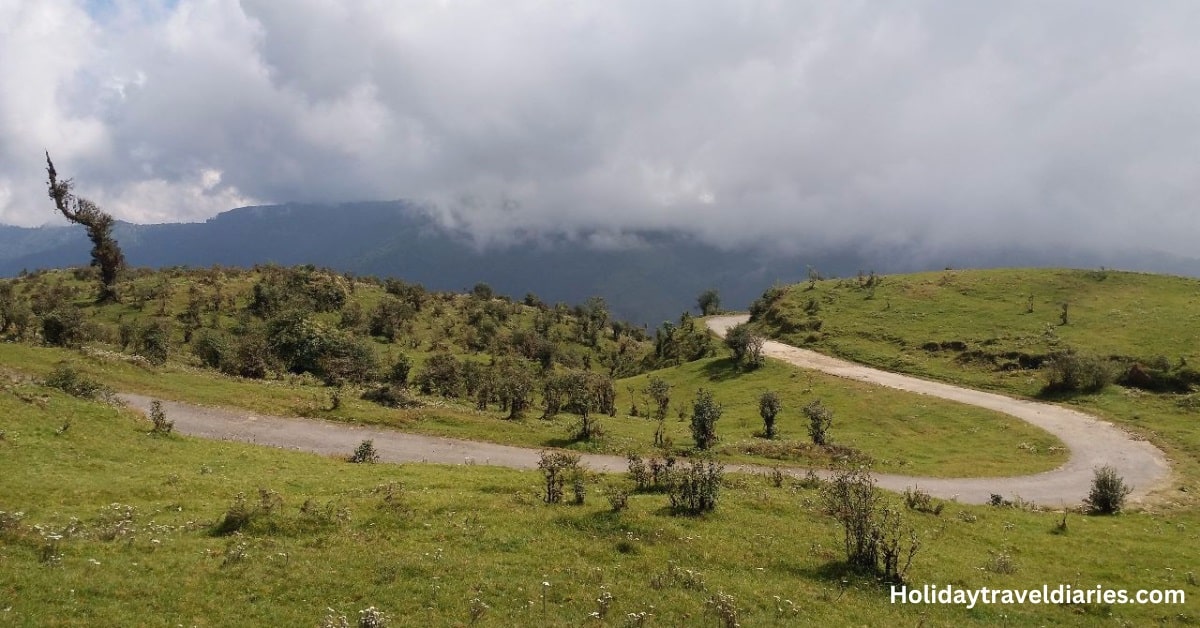 Starting Point: Manebhanjan

Manebhanjan is the gateway to Sandakphu and a great place to start a car tour. It is easily accessible from nearby cities and towns and is located in the Darjeeling district of West Bengal, India.
Route and Approximate Time:
The road from Manebhanjan to Sandakphu provides breathtaking views and passes through picturesque scenery. The drive from Manebhanjan to Sandakphu takes approximately 4 to 5 hours and covers a distance of approximately 32 kilometers.
The popular route is as follows:
Manebhanjan to Chitrey: The journey begins with a 30-minute to 1-hour drive from Manebhanjan to Chitrey, depending on road conditions.

Chitrey to Meghma: The road from Chitrey to Meghma winds through charming villages and lush green forests. This portion of the journey usually takes 1 to 1.5 hours.

Meghma to Tonglu: The road from Meghma to Tonglu offers spectacular views of the Kanchenjunga range. The drive from Meghma to Tonglu takes between 30 and 1 hour.

Tonglu to Sandakphu: The final part of the journey takes you from Tonglu to Sandakphu, the trek's highest point. The drive takes about 1.5 to 2 hours, passing through beautiful landscapes and providing breathtaking views of the Himalayan peaks.
Road Conditions:
The road conditions between Manebhanjan and Sandakphu can vary depending on weather and maintenance. The first section of the road is relatively smooth and well-paved, but later sections may have rough patches and steep inclines. To ensure a comfortable and safe journey, it is best to hire a sturdy vehicle and an experienced driver who is familiar with the route.
Cost and Permits:
The cost of a car tour from Manebhanjan to Sandakphu can vary depending on factors such as vehicle type, driver fees, and tour duration. It is best to get an estimate of the costs involved by contacting local tour operators or taxi services in Manebhanjan.
Trekkers must also obtain permits to enter the Singalila National Park, which is located on the way to Sandakphu. Permits can be obtained in Manebhanjan, and the fees for Indian and foreign nationals differ.
Full Itinerary Details for the Sandakphu trek
The Sandakphu trek, located in the majestic Eastern Himalayas, provides an unforgettable journey through breathtaking landscapes and breathtaking views of the world's highest peaks. We present a comprehensive Sandakphu Trek Itinerary outlining the day-to-day activities, duration, and highlights of the Sandakphu trek for those looking for an unforgettable trekking experience. So lace up your boots and prepare for an adventure of a lifetime!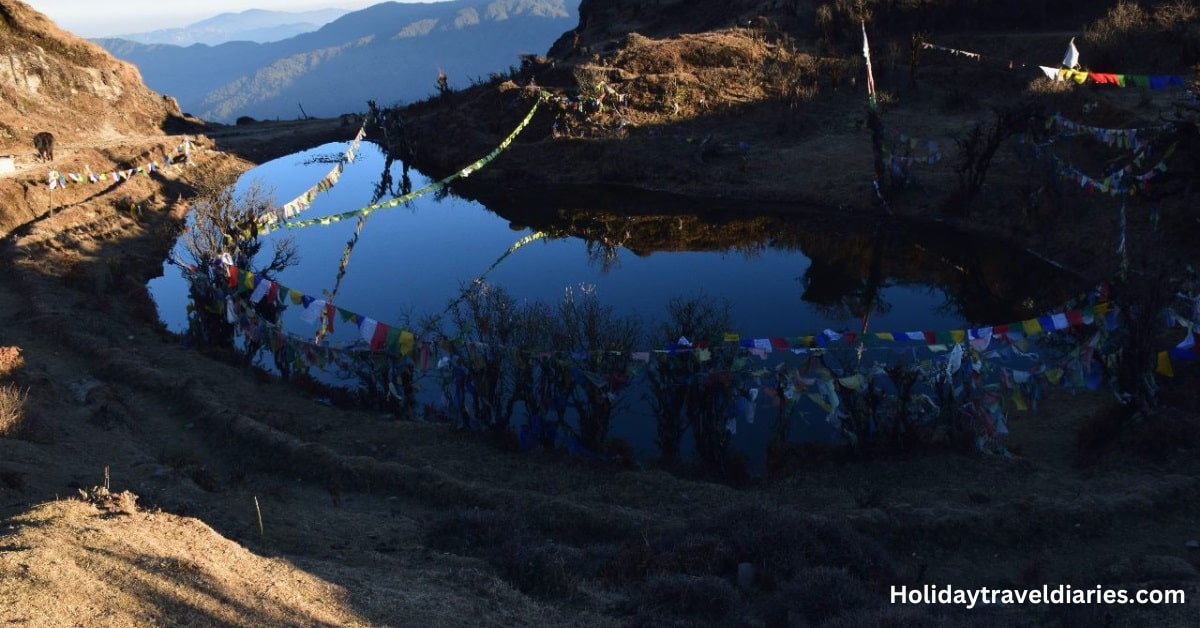 Day 1: Manebhanjan to Tumling (11 kilometers, 4-5 hours)
Begin your journey in Manebhanjan, the entry point to Sandakphu. Trek through charming villages, rhododendron forests, and beautiful scenery.
Arrive at Tumling, a small settlement at an elevation of about 9,600 feet. Take in the breathtaking views of Kanchenjunga and the surrounding peaks.
Day 2: Tumling to Kalipokhri (13 kilometers, 5-6 hours)
From Tumling's vantage point, you can see the golden sunrise over the snow-capped peaks.
Trek through Singalila National Park, which is well-known for its diverse flora and fauna.
Travel through Chitrey and Meghma to Kalipokhri, which is known for its sacred lake and a small temple dedicated to Lord Shiva. Kalipokhri, at an altitude of 10,400 feet (3,170 meters), is named after the sacred black pond and offers panoramic views of the Himalayas.
Day 3: Kalipokhri to Sandakphu (6 kilometers, 3-4 hours)
Set out on a relatively short but difficult ascent to Sandakphu, the trek's highest point. Sandakphu, at an elevation of 11,941 feet (3,636 meters), is often referred to as the "Trekkers' Wonderland."
Enjoy breathtaking views of the Himalayan peaks such as Mount Everest, Kanchenjunga, Makalu, and Lhotse.
Day 4: Sandakphu To Srikhola
The fourth day will be spent descending from Sandakphu to Srikhola, a distance of approximately 9 miles (15 kilometers).
The trail winds through dense forests, charming villages, and cascading waterfalls. Srikhola, at an elevation of 6,562 feet (2,000 meters), is a serene and tranquil village where you can take in the natural beauty of the region.
Day 5: Srikhola to Manebhanjan and Departure
On the final day of the trek, you will return from Srikhola to Manebhanjan, bringing your incredible journey to a close. From there, you can continue your journey to New Jalpaiguri or Bagdogra.
Sandakphu To Phalut
Those who are seeking for Sandakphu Phalut Trek Route can follow to below route.
Day 4: Sandakphu to Phalut (21 kilometers, 7-8 hours)
Begin your journey in Sandakphu, passing through rhododendron forests and meadows.
Continue your journey to Phalut, located at an elevation of 11,811 feet, via the picturesque village of Sabargram.
Phalut's viewpoint offers breathtaking sunset views of the Himalayan ranges.
Day 5: Phalut to Gorkhey (15 kilometers, 6-7 hours)
Descend from Phalut, passing through forests and stunning scenery.
Trek up the steep trail to the peaceful village of Gorkhey, which sits at an elevation of about 7,500 feet.
Relax by the sparkling river and enjoy the serenity of Gorkhey.
Day 6: Gorkhey to Sepi (14 kilometers, 5-6 hours)
Trek through dense forests and picturesque villages such as Samandin and Rammam.
Arrive in Sepi, a small village surrounded by terraced fields and natural beauty.
Day 7: Sepi to Srikhola (13 kilometers, 4-5 hours)
Continue your journey through lush green forests, crossing suspension bridges along the way.
Arrive in Srikhola, a lovely village with a rushing river and charming surroundings.
Day 8: Srikhola to Rimbik and Return to Manebhanjan (8 kilometers trek, 4-5 hours drive)
Finish the last leg of the journey from Srikhola to Rimbik.
Take a scenic drive back to Manebhanjan from Rimbik, where the trek concludes.
Reflect on the incredible journey and cherish the Sandakphu trek memories.
Important Note: The trek's duration can vary depending on the group's pace, weather conditions, and individual fitness levels. For a more accurate assessment of the itinerary and potential changes based on current conditions, consult with experienced trekking guides or local tour operators.
Hotel Options for Sandakphu Trek
As you embark on this incredible journey, it is critical to carefully plan your accommodations to ensure a comfortable and rejuvenating experience. Are you searching for the best hotel in Sandakphu? In this article, we look at the hotel options available during the Sandakphu trek, offering a variety of options to suit a variety of preferences and budgets.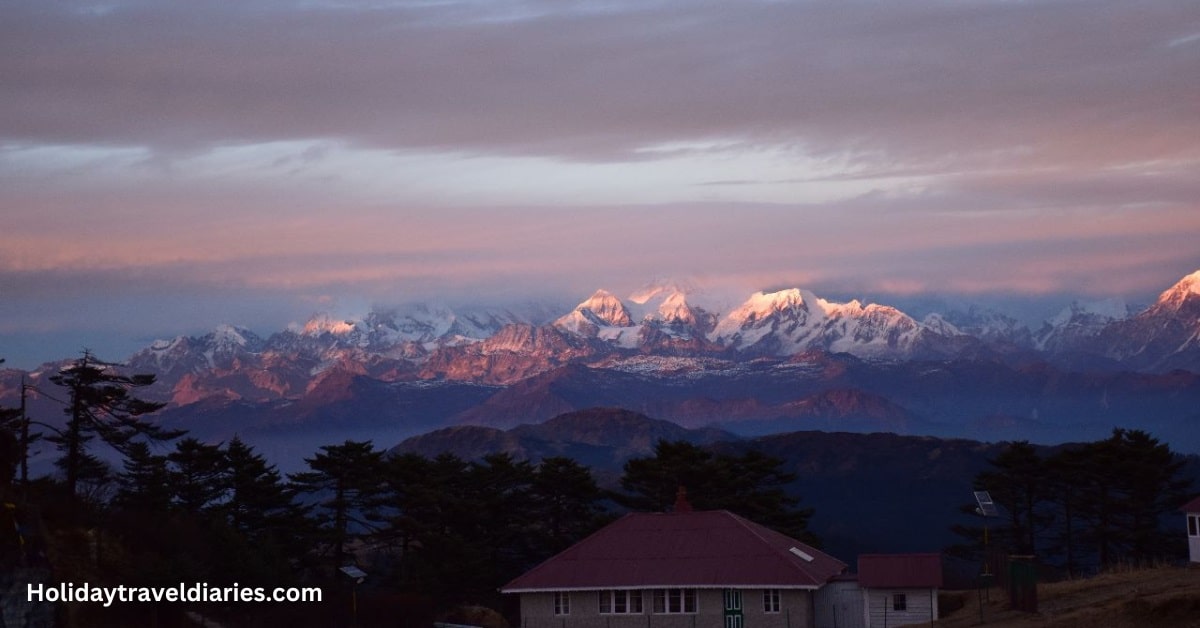 Tea Houses and Guesthouses:
Tea houses and guesthouses are the most common and preferred lodging options along the Sandakphu trekking route. These modest establishments have a rustic charm and provide basic amenities to make your stay enjoyable.
Facilities: Tea houses and guesthouses usually provide shared or private rooms with clean beds and blankets. There are public toilets and basic washing facilities. Some establishments may provide hot water for bathing, but it's always a good idea to double-check ahead of time.

Dining: The majority of tea houses and guesthouses have dining areas where hot meals and beverages are served. You can eat delectable local cuisine, including traditional Himalayan dishes, and enjoy the warmth of the hearth while interacting with other trekkers.

Experience: Staying in tea houses and guesthouses allows you to immerse yourself in local culture and interact with friendly locals. You'll be able to share stories, learn about the region, and experience the authentic mountain way of life.
Sandakphu Trekkers Hut: (080138 23228)
Along the Sandakphu trek, trekkers' huts are basic accommodations provided by the government or local authorities. These huts are frequently located in scenic areas, providing breathtaking views and a tranquil ambiance.
Facilities: Trekker's huts offer shared dorm-style rooms with bunk beds or simple private rooms. There are basic amenities such as toilets, washing machines, and common areas. However, power may be limited or non-existent, and hot water availability may vary.

Dining: Some trekkers' huts have dining areas where simple, nourishing meals are served. It's a good idea to bring some snacks and energy bars with you on the trek to supplement your meals.

Experience: Staying in trekker's huts allows you to appreciate the natural beauty of the surroundings while also connecting with other trekkers. A sense of camaraderie and shared experiences add to the allure of the trekking community.
Camping:
Camping is a popular option for those seeking a closer connection with nature during the Sandakphu trek. Setting up your tent in the midst of breathtaking scenery provides a one-of-a-kind and immersive experience.
Facilities: Camping entails transporting your own tent, sleeping bag, and camping gear. It gives you the freedom to choose your camping spots, allowing you to fully enjoy the tranquility of nature.

Dining: When camping, you can bring your own food or make arrangements for meals with local trekking organizations. Camping areas with designated cooking facilities may have cooking facilities.

Experience: Camping in the Himalayan scenery provides a sense of adventure and solitude. You can relax in the tranquility of the surroundings, gaze at the stars, and wake up to breathtaking sunrise views.
Important Considerations:
Booking ahead of time is recommended, especially during peak trekking seasons, to ensure availability.

Basic Amenities: While the above-mentioned accommodations provide basic amenities, it's important to remember that luxury or high-end facilities may not be available. As part of the trekking experience, embrace the simplicity and natural charm of the accommodations.

Weather Conditions: Expect changing weather conditions on your trek. Carry appropriate clothing, sleeping bags, and equipment to ensure comfort and safety in a variety of temperatures.
Whether you stay in tea houses, guesthouses, trekkers' huts, or camps, each option offers a unique experience amidst the stunning Himalayan landscapes. As you embark on this unforgettable adventure, embrace the simplicity and rustic charm of the accommodations, and allow the tranquility of the surroundings to rejuvenate your spirit. So, plan your stay wisely, enjoy the warmth of mountain hospitality, and let Sandakphu enchant you every step of the way.
Unveiling the Cost Breakdown of the Sandakphu Trek
To ensure a smooth and cost-effective adventure, it's crucial to understand the cost implications as you plan your trek. This article provides a detailed breakdown of the various costs associated with the Sandakphu trek price, including transportation, lodging, guide fees, permit fees, and other necessary expenses.
Transportation Costs:
Car Cost:
From NJP to Manebhanjan: If you want to enjoy the trip by car, then you have two options. You can book a full car from NJP or Siliguri to Manebhanjan if you are traveling with a group. In this case, it will cost you around INR 3500-4000 depending upon the seasons. Or you can go by shared car from NJP to Darjeeling and Darjeeling to Manebhanjan. From NJP to Darjeeling it will cost you around INR 250-300 and from Darjeeling to Manebhanjan it will cost INR 200-250 depending upon the season. Distance from Siliguri to Darjeeling is around 60km and Darjeeling to Manebhanjan is around 18km.
From Manebhanjan to Sandakphu: You can book a Land Rover (SINGALILA LAND ROVER OWNER'S WELFARE: 097331 68398) from Manebhanjan to Sandakphu. They will charge around INR 4000-5000 for this. 5 Persons can seat comfortably in this car. So the fare will be divided into 5 people. So you can take 1200-1500 INR per person for this route.
Accommodation Costs:
Tea Houses/Guesthouses: Tea houses and guesthouses are the most common lodging options along the trekking route. A night's stay in these establishments costs approximately INR 500 to INR 1,000 per person. This price usually includes a bed, a blanket, and access to shared restrooms.
Trekker's Huts: Along the trekking route, there are trekker's huts provided by the government or locally. A night's stay in these huts costs between INR 300 and INR 600 per person and offers basic dormitory-style or shared accommodation.
Camping: If you prefer to camp, you can bring your own or rent it from local trekking agencies. Renting camping equipment costs between INR 500 and INR 1,000 per day.
Guide and Porter Fees:
Cost of a Guide: Hiring a guide is recommended for the Sandakphu trek, especially if you have no prior experience or knowledge of the area. A guide costs approximately INR 1,000 to INR 1,500 per day. A guide can provide useful information, ensure your safety, and improve your overall trekking experience.
Porter Cost: If you need a porter to carry your luggage during the trek, the cost ranges from INR 800 to INR 1,200 per day. This fee may differ depending on the weight and volume of your belongings.
Permit Costs:
TIMS Permit: A TIMS (Trekkers' Information Management System) permit is required to trek in the Singalila National Park, which is part of the Sandakphu trek. The TIMS permit costs INR 100-150 (The camera charge is different from this. It will cost you around INR 100-500 depending upon the camera) for Indian citizens and different for foreign citizens.
Food and Water:
Food costs vary depending on your choice of accommodation and whether you eat at tea houses, guesthouses, or trekkers' huts. Budget approximately INR 500 to INR 1,000 per day for meals.
Water: It is recommended that you bring your own water bottles and water purification tablets. A liter of bottled water costs around INR 50 to INR 100 in tea houses and guesthouses.
Miscellaneous Expenses:
Personal expenses such as snacks, toiletries, extra clothing, and any additional activities or souvenirs purchased along the way are examples of miscellaneous expenses. Spend an extra INR 500 to INR 1,000 per day on miscellaneous expenses.
It is important to note that the cost estimates provided are only estimates and may vary depending on factors such as season, group size, negotiation skills, and personal preferences. Furthermore, currency exchange rates can fluctuate, so it's best to check the most recent rates before making any conversions.
Understanding the various cost components involved in the trek allows you to effectively plan your budget. The cost breakdown provided in this article offers a comprehensive guide to help you estimate and manage your expenses, from transportation and lodging to guide fees, permit costs, and miscellaneous expenses. You can embark on a memorable Sandakphu trek that is both enriching and affordable by budgeting wisely and being mindful of your expenditures.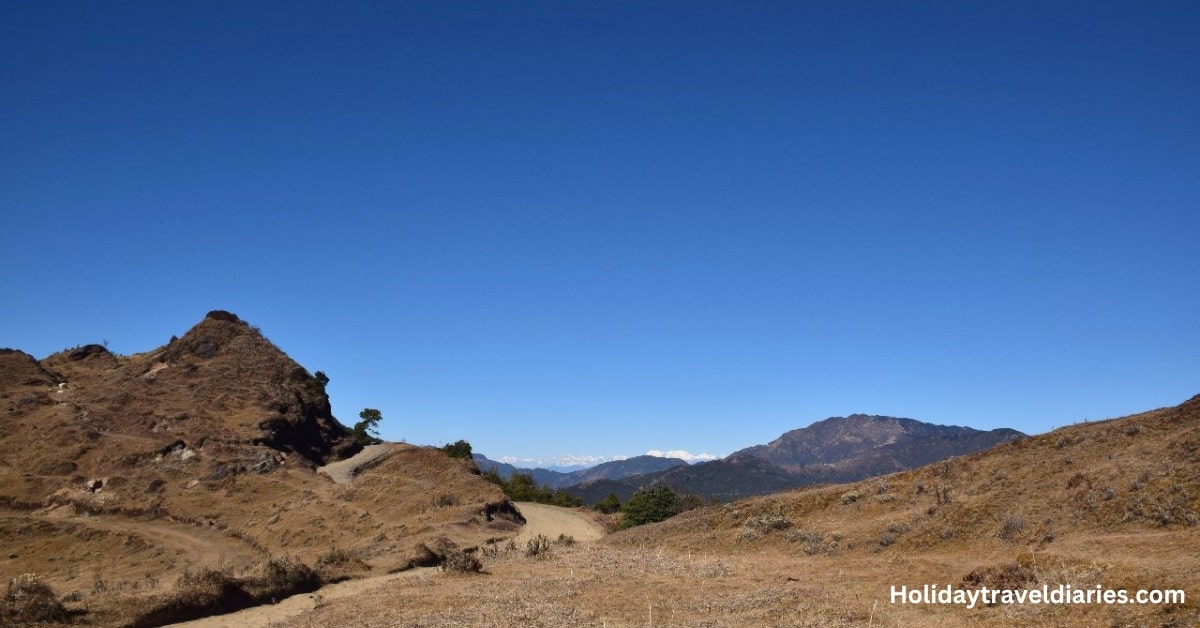 Must-Have Trek Essentials for Sandakphu Trek
As you prepare for this thrilling journey, it is important that you have the proper trekking gear. This article will highlight the must-have items for your comfort, safety, and overall experience on the Sandakphu trek.
Backpack:
A strong and comfortable rucksack is required to transport your belongings throughout the trek. Choose a rucksack with adjustable straps, a large capacity (40-50 liters), and compartments for organizing your belongings. Check that it fits properly and evenly distributes weight on your shoulders and hips.
Trekking Shoes:
Invest in a good pair of trekking shoes with ankle support, a firm grip, and a waterproof membrane. The Sandakphu trek includes a variety of surfaces, including rocky paths, muddy trails, and steep inclines, so durable and comfortable shoes are required to avoid discomfort and minimize the risk of injury.
Layered Clothing:
The weather in the Himalayas is erratic, with temperature swings throughout the day. Layering your clothing allows you to adapt to changing weather conditions. Pack breathable and moisture-wicking base layers, insulating mid layers, and a waterproof and windproof outer shell. Warm jackets, thermals, fleece sweaters, and quick-drying trekking trousers are recommended. Don't forget to pack extra socks, gloves, a hat, and a scarf or neck gaiter to keep you warm.
Sleeping Bag:
A good quality sleeping bag that is suitable for low temperatures is required for a restful night's sleep during the trek. Look for a bag with an appropriate temperature rating for the anticipated conditions, preferably down-filled for better insulation. To make it easier to carry, make it lightweight and compressible.
Trekking Poles:
While traversing steep ascents and descents, trekking poles provide stability, reduce joint strain, and improve balance. They can be a great help on the Sandakphu trek, especially when navigating difficult terrain. When not in use, choose adjustable and collapsible poles that can be easily stored in your backpack.
Headlamp/Flashlight:
A headlamp or torch is essential for navigating in low-light conditions, particularly before sunrise or after sunset. It aids in trail navigation and is useful for finding items in your backpack or around the campsite. Remember to bring extra batteries or make sure your headlamp is rechargeable.
Water Bottles and Water Purification:
Staying hydrated is essential during the trek. Carry water bottles that are at least 1-2 liters in capacity. Bring water purification tablets or a portable water filter as well to ensure a safe and clean water supply along the way.
First Aid Kit:
Pack a well-stocked first-aid kit with bandages, antiseptic ointment, blister pads, pain relievers, and any necessary personal medications. Sunscreen, SPF lip balm, and insect repellent are also recommended to protect yourself from sunburn and bug bites.
Personal Hygiene Essentials:
In a waterproof bag, keep travel-sized toiletries, biodegradable wet wipes, hand sanitizer, and toilet paper. These necessities will assist you in maintaining personal hygiene and cleanliness during the trek, as facilities may be limited.
Snacks and Energy Food:
To keep your energy levels up during the trek, bring lightweight and energy-rich snacks like granola bars, nuts, dried fruits, and chocolates. These quick bites provide a much-needed pick-me-up and can be consumed on the go.
Cash and Important Documents:
Carry enough cash in small denominations for any unexpected expenses, as ATMs may not be easily accessible during the trek. For easy access and protection, keep your identification documents, permits, and emergency contact information in a waterproof pouch.
Note:
a) Use Jio or BSNL sim there for better connectivity. Mobile networks are easily available up to Tumling. After that network conditions are not so good. You may face difficulties to access the internet.
b) When you are booking a room in Sandakphu please check for Hot water facilities before booking.
c) They may charge some amount for charging your Camera Mobiles etc. So before using keep this in your mind.
d) Package drinking water is costly on the top. If you are traveling by car I will suggest picking a sufficient number of bottles from Manebhanjan.
Remember to pack light and prioritize essential items for ease of movement and to reduce the weight on your back. When choosing trekking gear, prioritize comfort, safety, and versatility. It's also a good idea to consult with experienced trekkers, local guides, or trekking agencies for personalized recommendations based on the Sandakphu trek's specific requirements.
You'll be well-prepared to embark on the Sandakphu trek and immerse yourself in the captivating beauty of the Himalayas if you pack these essential items in your backpack. So, pack your bags, embrace the adventure, and make memories that will last a lifetime among Sandakphu's enchanting landscapes.
Final Words
As you embark on this incredible journey, keep the following points in mind to ensure a safe, enjoyable, and successful journey. We highlight important points to remember while trekking Sandakphu in this article to help you make the most of this incredible adventure.
Always put your safety first. Follow safety guidelines, listen to your guide's instructions, and be cautious.

While trekking Sandakphu is difficult, remember to enjoy the journey. Take breaks, photograph the breathtaking views, and soak in the tranquillity of the Himalayas.

Drink plenty of water to stay hydrated throughout the trek. To ensure a safe water supply, carry water bottles and use water purification tablets or filters.

It is best to trek Sandakphu in a group for safety and support. Joining a group or trekking with other enthusiasts not only improves the overall experience but also provides a sense of camaraderie and support along the way.

Consider hiring an experienced local guide who is well-versed in the Sandakphu trek. A guide can help you navigate the route, ensure your safety, and improve your overall experience.

The weather in the Himalayas is notoriously unpredictable. Prepare for temperature changes, strong winds, and unexpected changes in weather conditions.

Before embarking on the trek, it is critical to assess your physical fitness level and engage in regular exercise to build endurance.
Leave No Trace: Respect the natural environment and follow the Leave No Trace principles. Dispose of waste responsibly, return any non-biodegradable items, and avoid littering. Respect the flora, fauna, and local communities by walking lightly and leaving little impact on the environment.