Simplicity, serenity, and splendor – homophiles, like me, desire to find balance and beauty in the mystic lands of nature which have been given the kiss of life since time immemorial. Tracing the heritage and beauty of North Bengal is exclusively throned to the house owners of West Bengal with my inner soul resting in the supernatural/magical kingdom preceding it.
Many of you are looking to go beyond the usual tourist spots to a little offbeat. But such a place is difficult to find these days. Almost every offbeat tourist spot is now within reach of people because of the internet.
In this post, I'm going to explore a place that is truly offbeat even in 2022, despite its stunning beauty. On the other side of the road, wherever you look at the mountains, you can see the entire Kanchenjunga range. With this, Mulkharka lake has its own characteristics. I am discussing them below.
One day I called my dear Kushal sir. Excited to hear that he is going to visit an offbeat place during Diwali. I broke the journey of his solo trip and immediately booked the Tatkal ticket and became his companion. We started our journey on the 22nd of October from Sealdah Railway Station with Darjeeling Mail.
This Trip is divided into four parts. On Day 1 we reached Jhusing Homestay from NJP. On Day 2 We reached Mulkharka From Jhusing by trek, On Day 3, we reached Pithamchin from Mulkharka and On Day 4, we reached NJP from Pithamchin via Rangpo.
Day 1: NJP – Siliguri- Rangpo – Rhenock – Lingsey – Jhusing
When going to Jalpaiguri in the morning one cannot sleep at all. Kanchenjunga can be seen about 30-35 km from the station if you are lucky on that day. We got off at New Jalpaiguri station and went to SNT by share car like every time. This time the fare is 30 Rupees per head.
From Siliguri, we took a shared car to go to Rangpo. It is a very important junction point on the way to Sikkim. In this context, it is good to say that Mulkharka Lake is situated on the West Bengal Sikkim border so we have to travel between Sikkim and West Bengal.
We reached Rangpo in about three hours while enjoying the known unknown beauty of the roadside. From Siliguri to Rangpo, the cost of a shared car is around Rs. 300-350 depending upon the season. We started our journey from Siliguri around 9.30 and at 12.30 we reached Rangpo.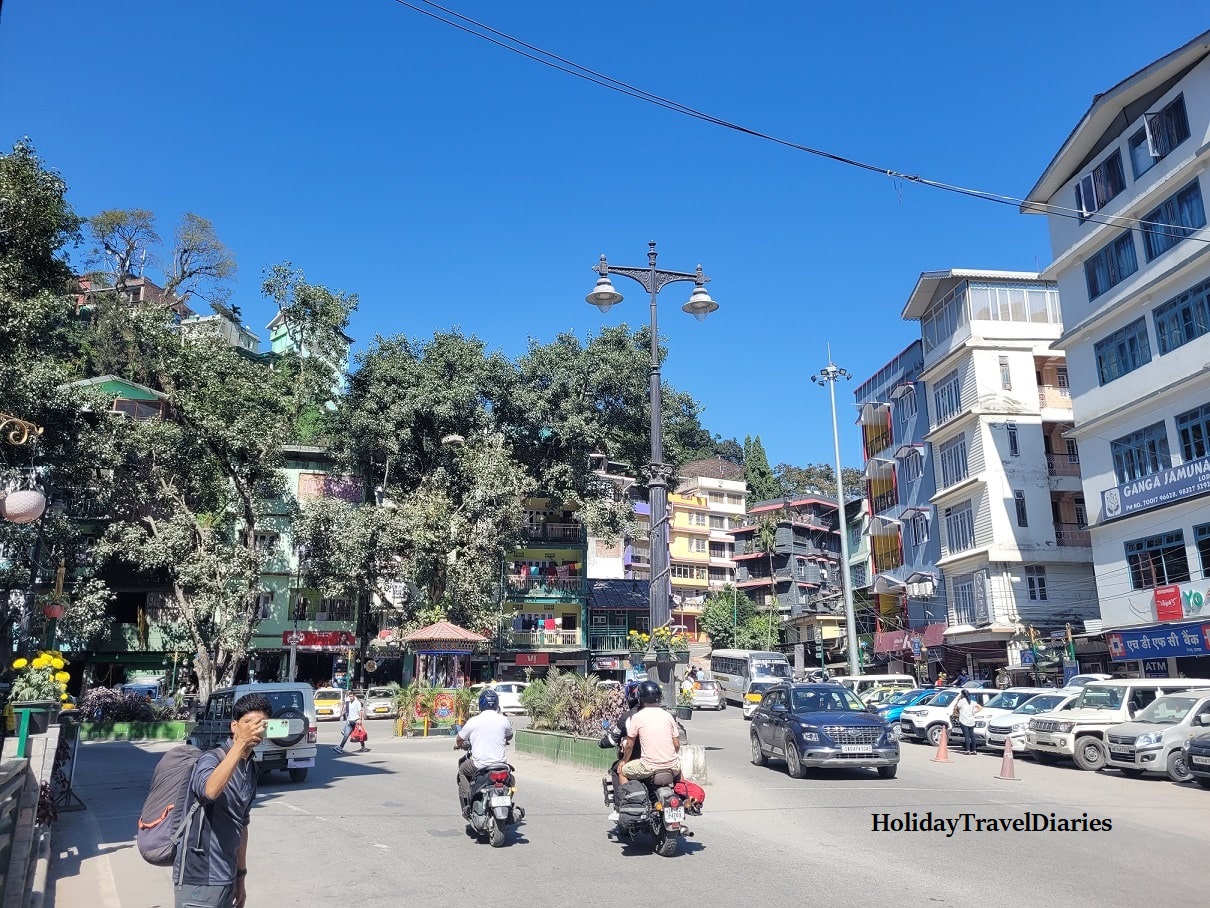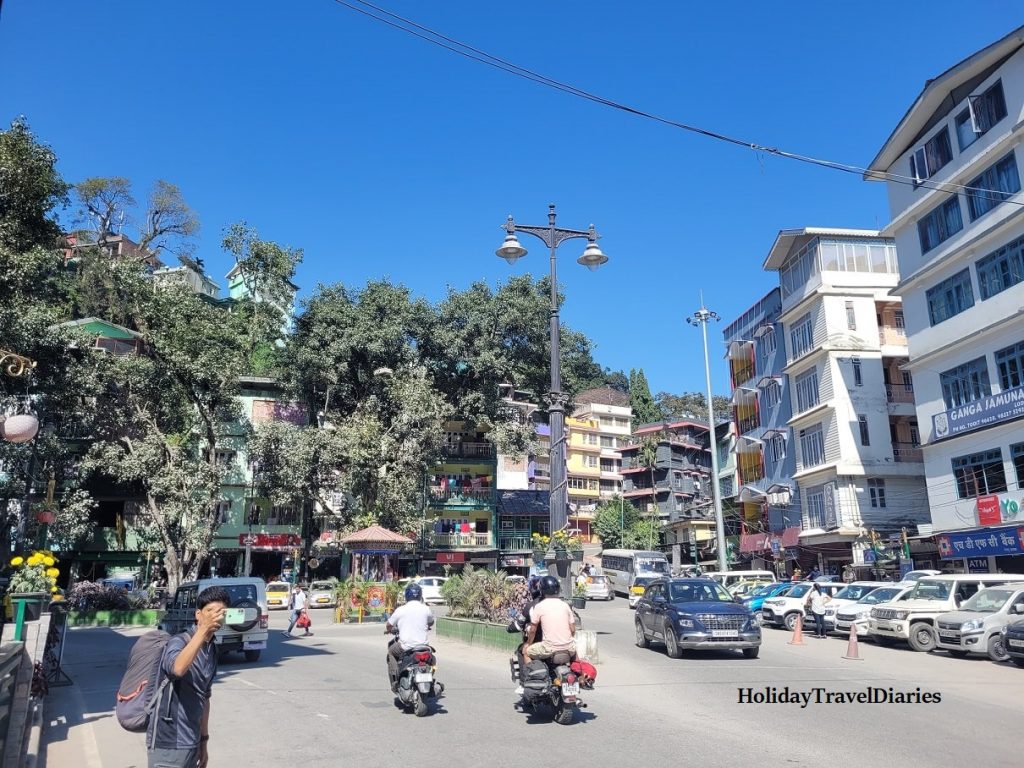 Then we started looking for a vehicle to go from Rangpo to Rhenock. Didn't have to wait long. Soon we got a shared car to Rhenock. In this case, our cost is 80 rupees per head. It took us about an hour. Initially, the road was a bit bad but later the road was good. But we later found out that we were taken through a shortcut. There was another road to Rhenock. It is relatively good but takes a bit more time.
Share cars are not usually available from Rhenock to Jhusing. In that case, if you can go to Lingsey from Renok first, you can get a car rental from there to Jhusing. But as we were lucky we got a shared car till Jhusing as soon as we reached Rhenock. In this case, it cost us Rs.100 per head and it took 1 hour. It should be mentioned in this context that our first-day destination was Jhusing. Lingsey Khasmahal falls within the boundaries of West Bengal. But the road here is very bad. So even though the distance is not very long, it takes a bit more time. If you have hired a car up to Jhusing you will have to get off your car at Jhusing Zero Point. No more cars go from there. You have to walk the rest of the way.
Quick Reference
NJP to Siliguri Shared Car Cost: Rs 30
Siliguri To Rangpo Shared Car Fare: Rs. 300 (Est Time- 3.5 Hours)
Rangpo to Rhenock Shared Car Fare: Rs. 80 (Est Time- 1 Hour)
Rhenock to Lingsey/ Jhusing Shared Car Fare: Rs. 100 (Est Time- 45 Minutes)
After dropping Jhusing at Zero Point you have to walk the path to Bedu Ji's house. Footpaths are made on the entire road. But keep in mind that the entire road is uphill. In that case, take some time. On the way, you will find a wooden bridge and a beautiful waterfall. Finally, after walking for about half an hour we arrived at Bedu Ji's wonderful homestay.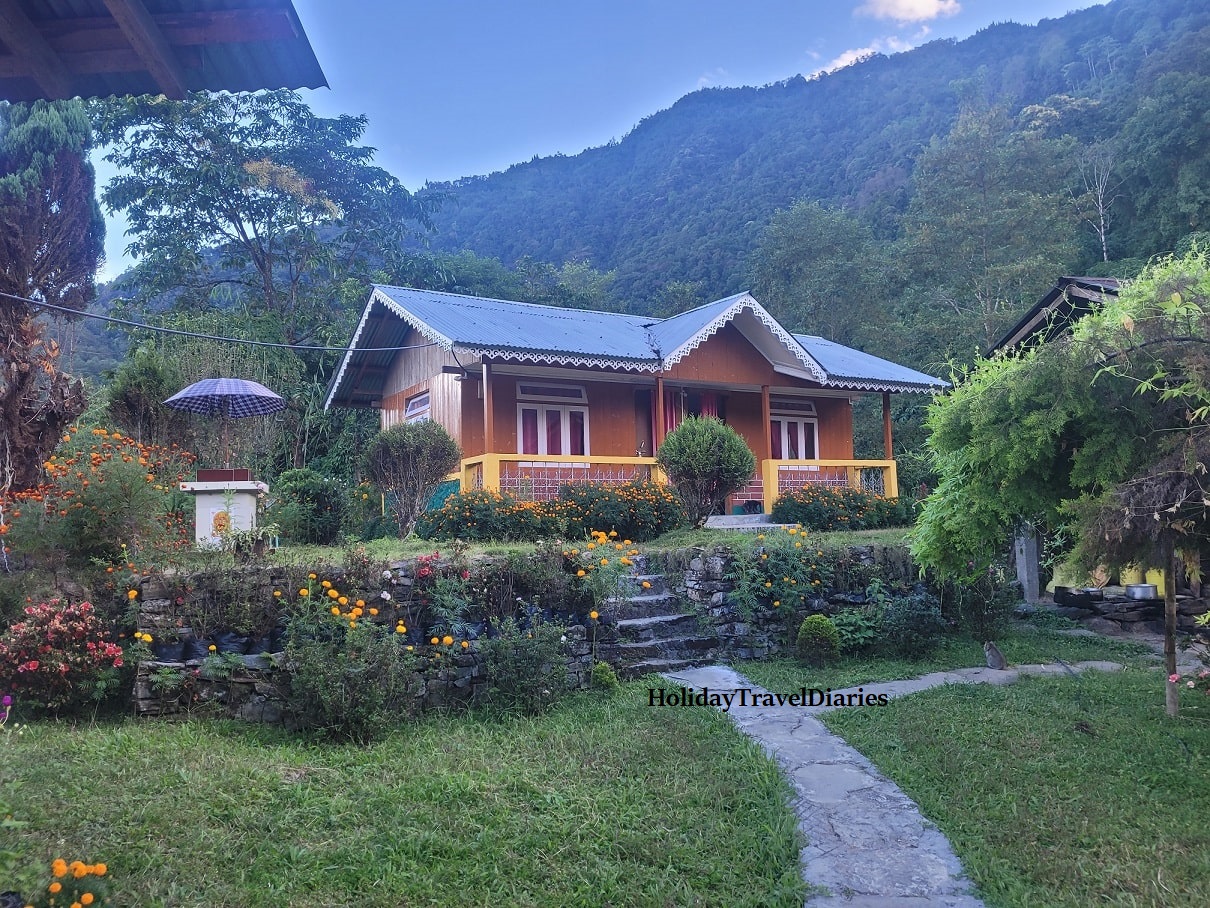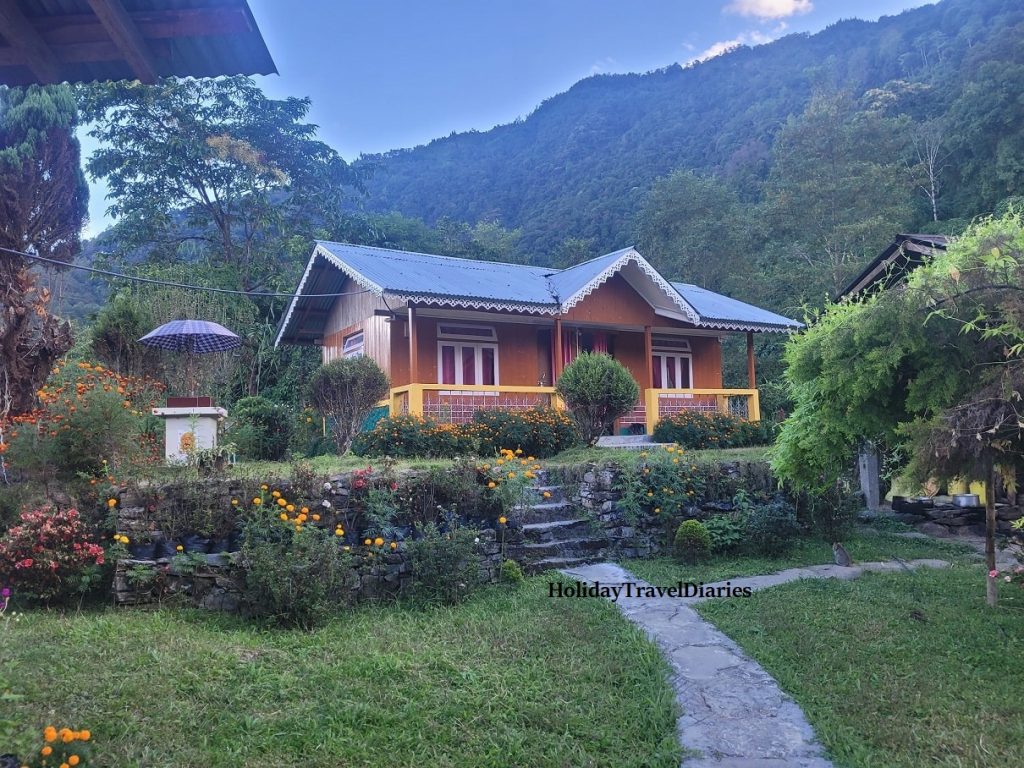 The environment of the homestay is amazing. The surrounding beauty will blow your mind. If you look at the right side of the room, you will see Kanchenjunga. A nice clean bathroom and a clean room will welcome you there. Food will be there. Your meal will be served with all the vegetables grown in their fields. In short, everything there is organic. But one thing that everyone should know is that you won't get any non-vegetarian food here. They themselves do not eat non-vegetarian food and do not serve guests as well. So if you are expecting to eat chicken or mutton here then this place is not for you.
But I can say from my own experience that even if you have vegetarian food, you will eat very satisfactorily here. Don't forget to experience their Bullet chili if you are a spice lover.
Jhusing Homestay
Address: Lingsay Khasmahal, West Bengal 734319
Contact: Bedu Ji (096797 00428)
Cost: Rs.1200 Per person/ Day (Breakfast, Lunch, Dinner Included)
Facilities: Clean Room and Bathroom, Gyser for Hot water
Network Available: Jio and Airtel Both
Not Included: Guide Charge For the Trek
The chirping of insects at night and the stillness offer a different kind of peace. The light of distant hilly villages provides an enchanting experience. Here, they will charge Rs.1200 per head for food and lodging per day. And this rate is same for the all homestay in Lingsey Khasmahal.
Day 2: Jhusing – Tagathang – Mulkharka
The next day we woke up early. There is no point in going to the mountains and sleeping in the morning. Our day starts with Bedu Ji's wife's handmade tea in the morning. After a while breakfast was served with Alu Parota and pickles. After experiencing the beauty of Jhusing, it was time to goodbye to Bedu Ji's family. We are overwhelmed by all of their love and hospitality.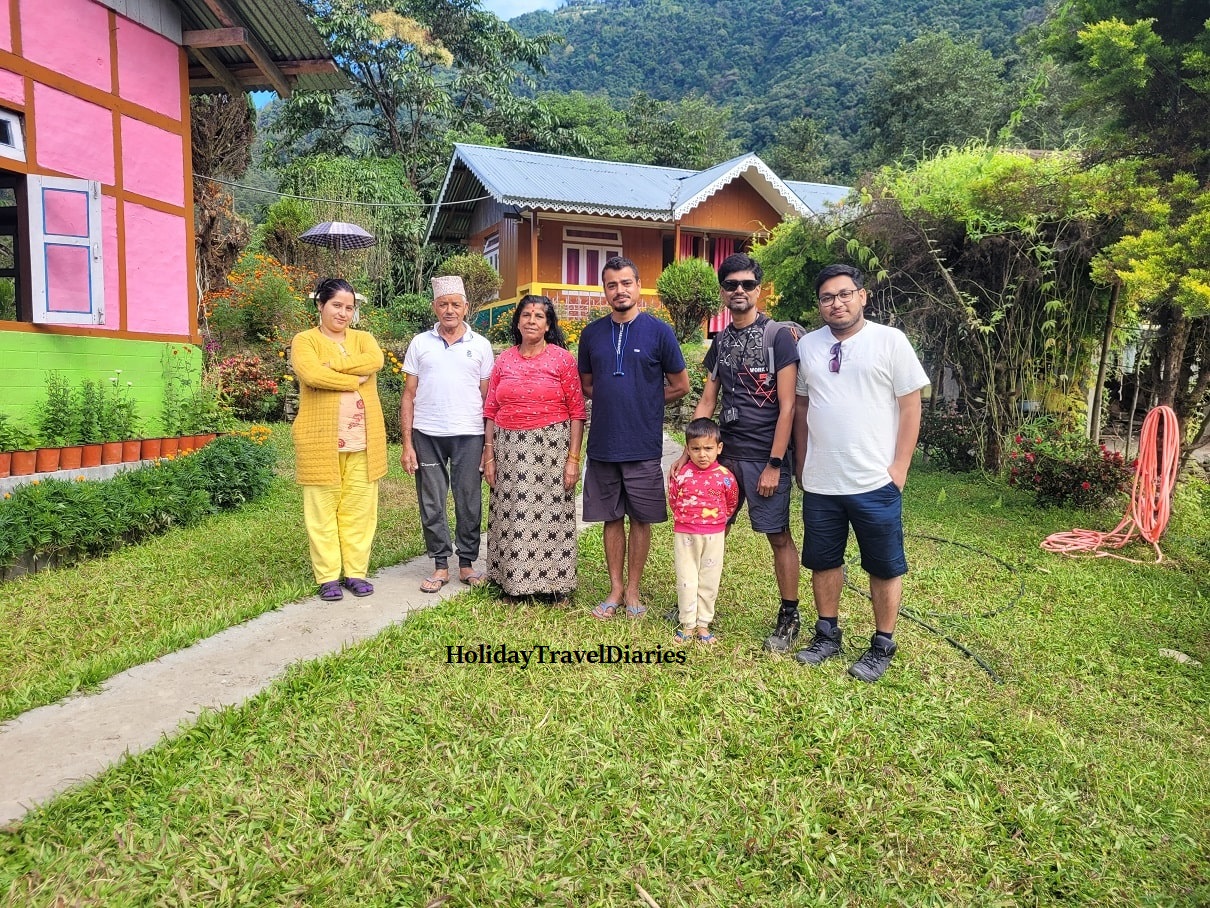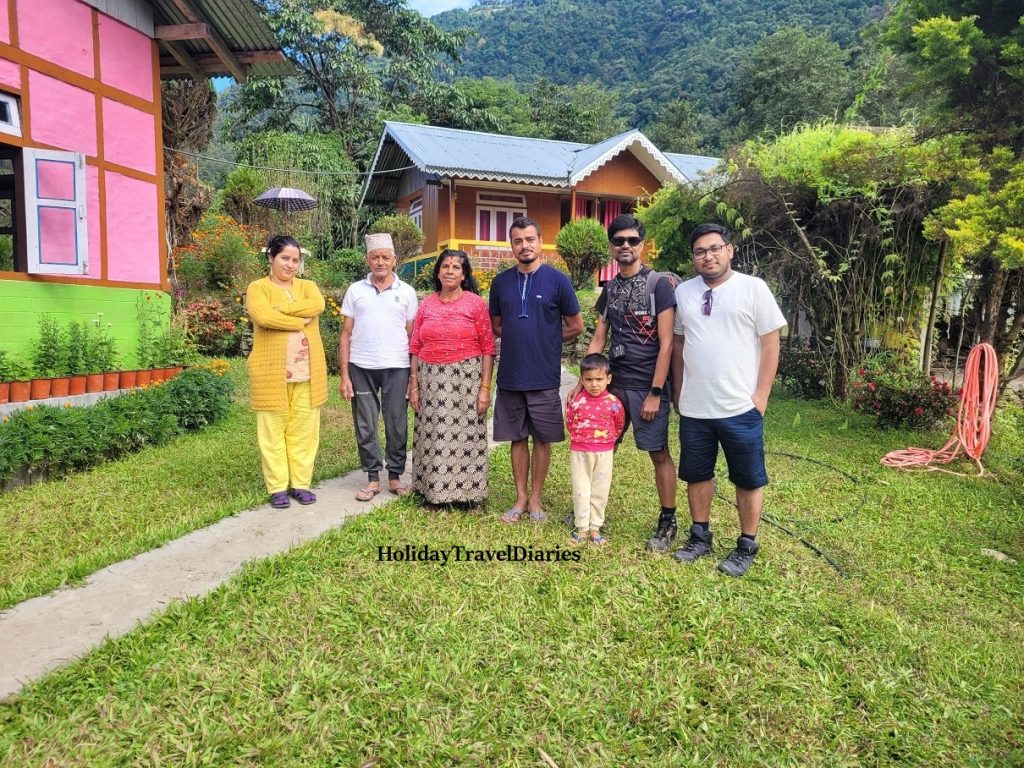 Our next destination or the main part of this trip started after breakfast at 9 AM. We started a little bit late because of capturing beautiful images and videos. They helped us with a guide for the trek. (Note: The guide charge is Rs.500)
We started slowly for the trek. The route is 6 km uphill and with our luggage it is difficult to trek this distance at pace also we wanted to enjoy nature most because we all know that journey is more beautiful than the destination. Local people generally cover the distance within 2 hours but we estimated that it will take us at least 6 hours.
The entire trekking route is a footpath built by the Indian government under the MGNREGA scheme. So you can assume the road and I must say it is not risky at all. We started and after some time we found the Kanchenjunga at our left. As we climb higher, the view of Kanchanjunga becomes clearer. On the way, you will find some houses on the hill.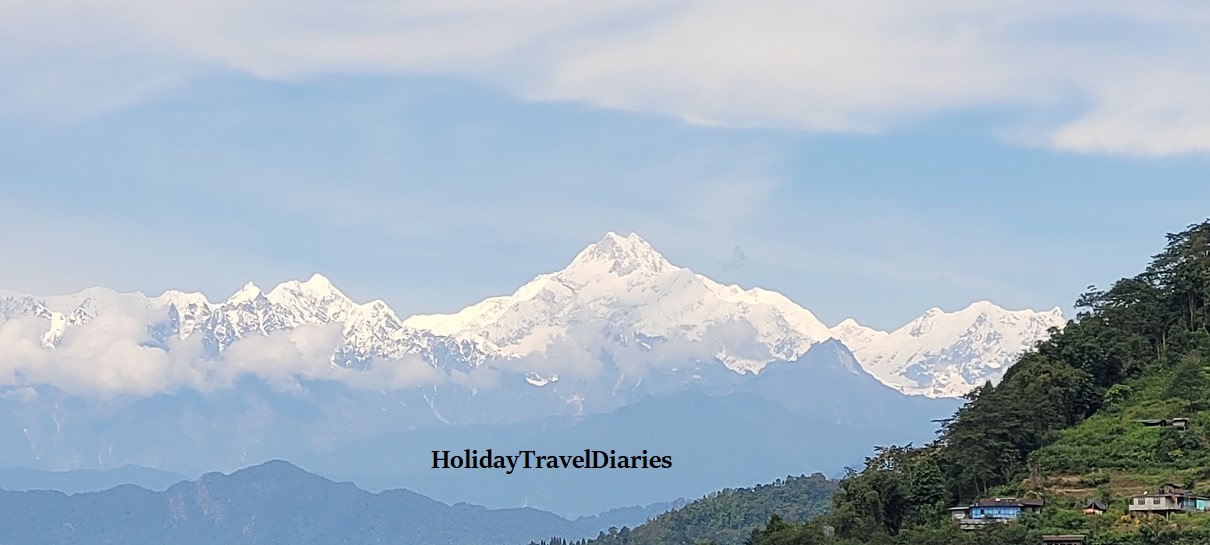 There is a place in the middle of this trek named Tagathang. People who don't want to trek the entire distance in one day can rest there in Tagathang for one night. It is also a beautiful offbeat place to stay. We took some rest at Tagathang and continued our journey again from there. They offered us tea.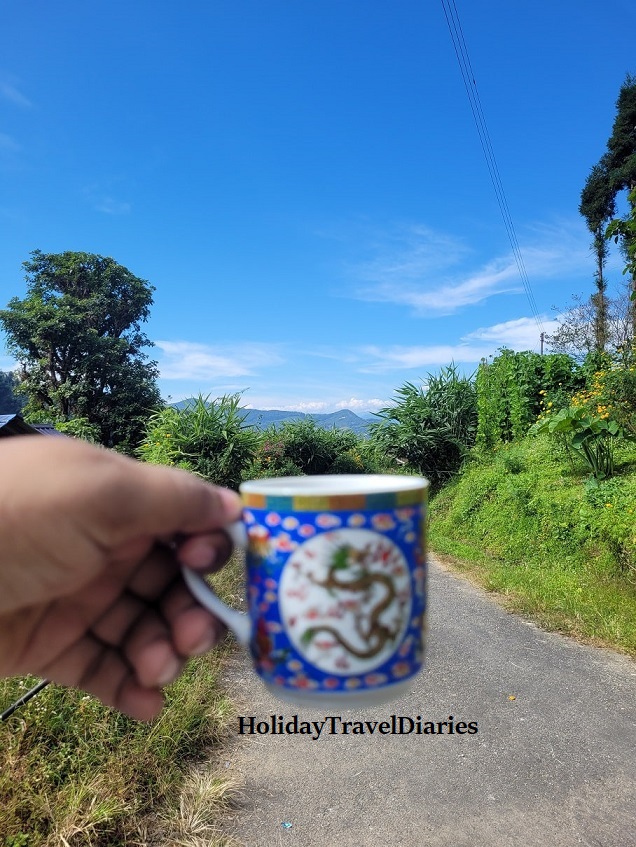 From Tagathag we started our final journey toward Mulkharka. Our guide was very helpful. In some places, he also carried my luggage. After passing some distance from Tagathang, the hill rises steeply upwards. This part is comparatively hard to cover. We moved forward to see Kanchenjunga and mountain trees on a curved path drawn through the forest. This experience is hard to describe in words. Finally, we reached Mulkharka Homestay at 2 PM. Although we estimated our time as 6 hours, we reached there in 4 hours.
We stayed at Purnima Ji's homestay in Mulkharka. Purnima Ji is known by everyone there. She is a humble and helpful lady with lots of knowledge. Also, she is the pioneer of Mulkharka Tourism. She helped make the place plastic and garbage free. It was our pleasure to stay there.
Mulkharka Homestay:
Address: Lingsay Khasmahal, West Bengal 734319
Contact: Purnima Ji (9749060593)
Cost: Rs.1200 Per person/ Day (Breakfast, Lunch, Dinner Included)
Facilities: Clean Room and Bathroom, Gyser for Hot water
Network Available: Jio and Airtel Both
Not Included: Guide Charge For the Trek
At noon we have our lunch with egg curry and various vegetables. That afternoon we got a wonderful view of the sky. That day was Diwali. Every year we celebrate Diwali from home with family members. But this year it was different. We celebrated our Diwali with natural fireworks created by nature.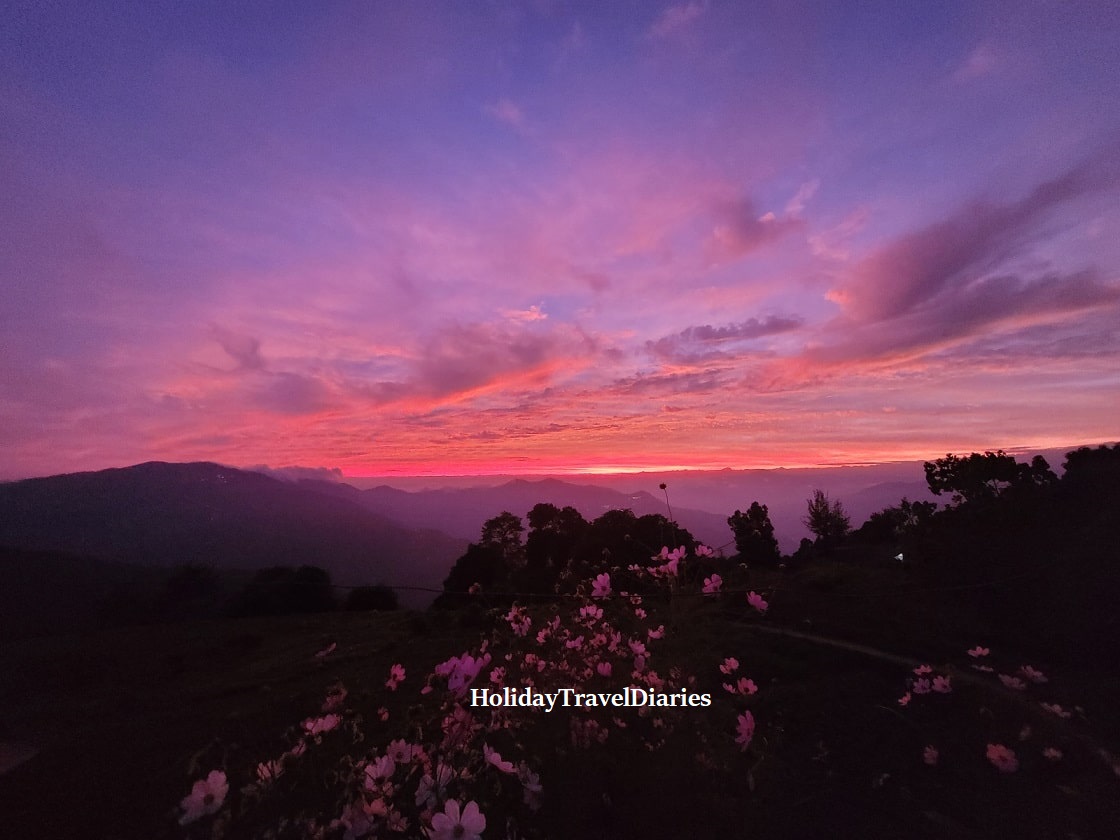 Day 3: Mulkharka Lake Visit – Pithamchin
The next morning we woke up early at 5.30. Purnima Ji's brother accompanied us to guide us to the lake. From homestay, Mulkharka Lake is about 30-45 minutes of walking distance. The entire road is uphill. On the way to the lake, you won't be able to forget the surrounding views. As Mulkharka is located higher than the other hills, you get a view of the Lava, the Neora Valley range, and many known and unknown villages from there. Also, you will experience Kanchenjunga from there. I have never seen such a wide view of the Kanchenjunga range before.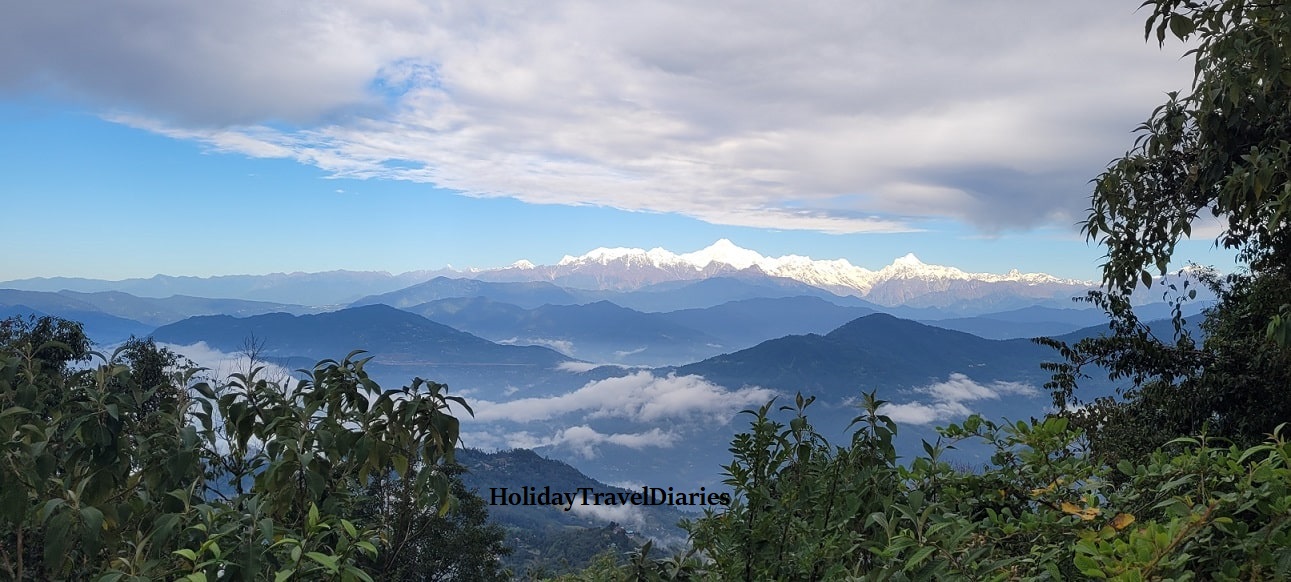 It was raining when we reached Mulkharka Lake. But as luck would have it, the rain soon stopped and we witnessed that much-awaited moment. The picture of the great Kanchenjunga emerges at Mulkharka Lake. It seems that Kanchenjunga is right behind the lake but it is not. The distance between the lake and Kanchenjunga is more than we can imagine.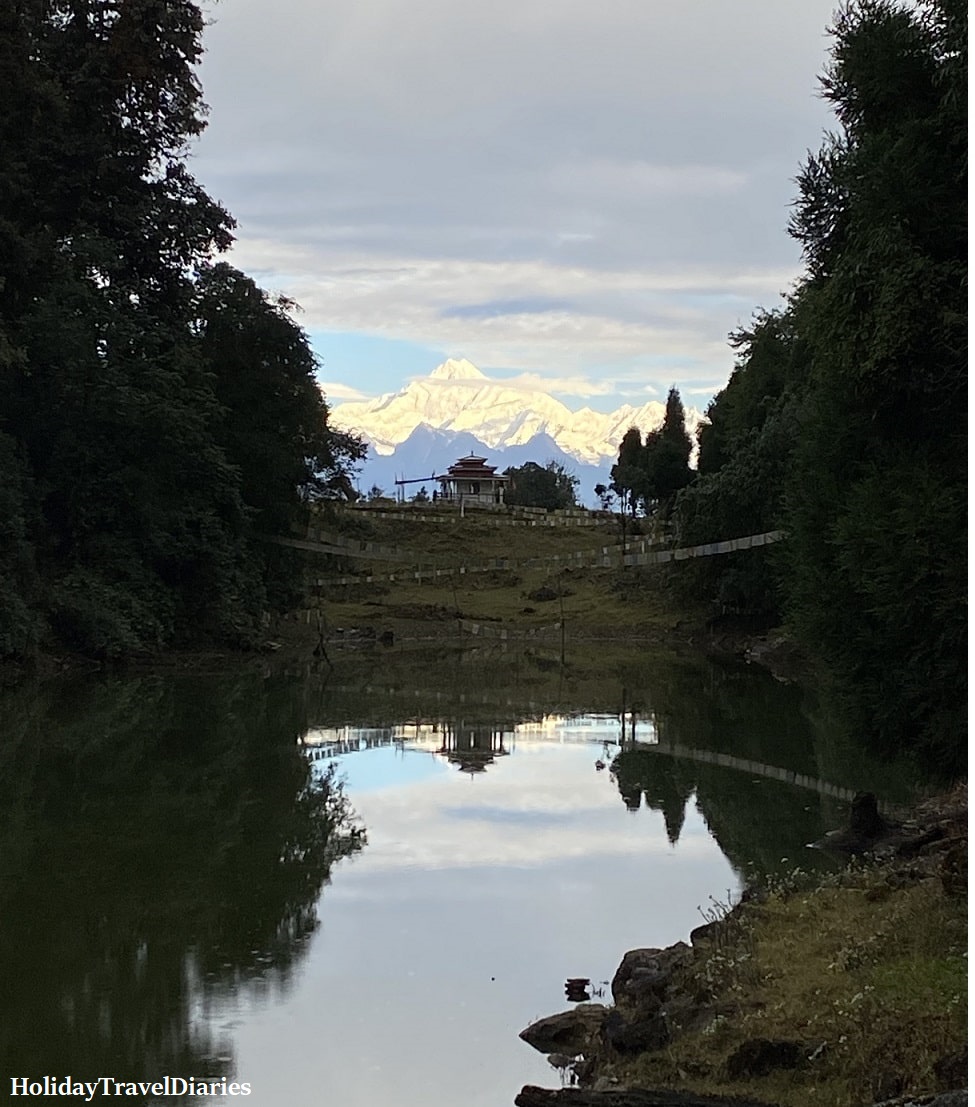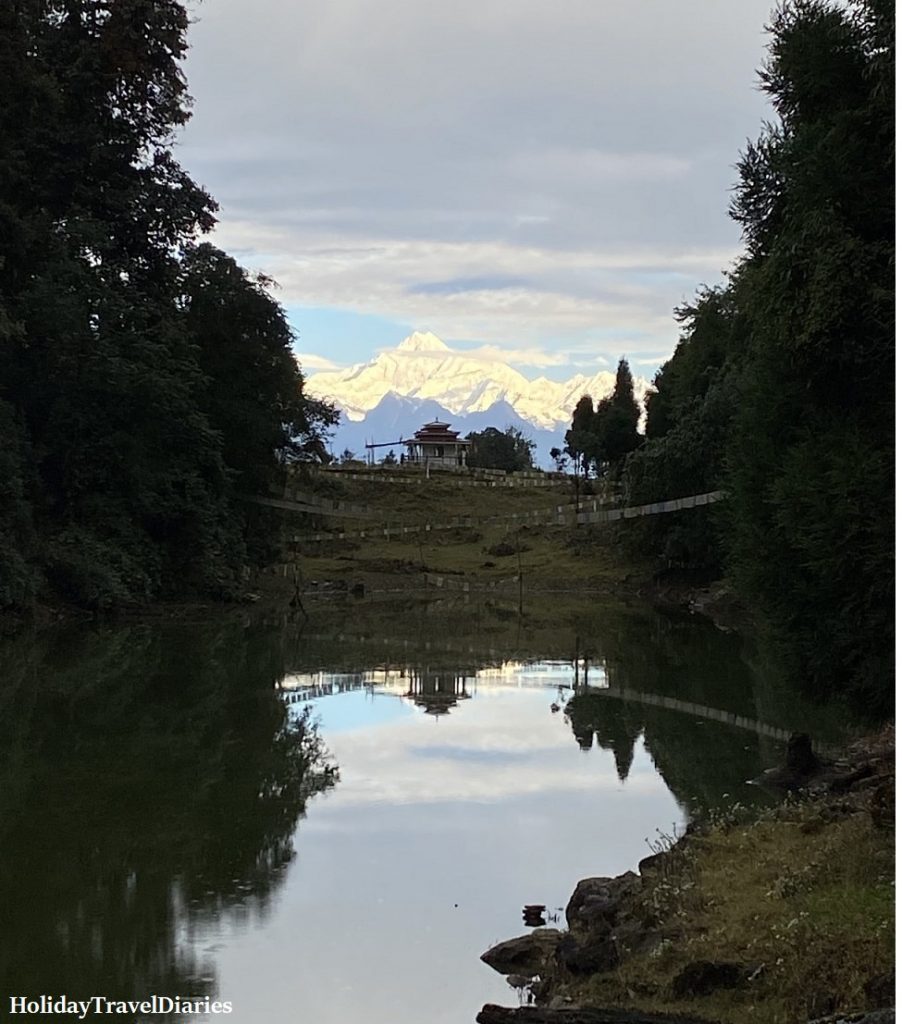 Mulkharka lake is a sacred lake for the locals. There are many stories about the lake. We also witnessed one of them live. The lake is in the middle of a forest. Even though there are many trees around, no leaves fall into the water of the lake. And in the picture above you can understand it to some extent. I don't know the scientific explanation behind it. Also, according to the locals, this lake is called "Manoskamona Lake" or Lake of desire. The people there believe that those who make a wish by arranging bricks in the lake water get their wish fulfilled.
The scenery around the lake is very pleasant. You will see different mountains together with the Neora Valley Range. Also has a Buddhist shrine and a temple. We spent some time there and returned to the Homestay at 8 AM. After Breakfast and some photo-capturing sessions, we finally started our journey toward Pithamchin.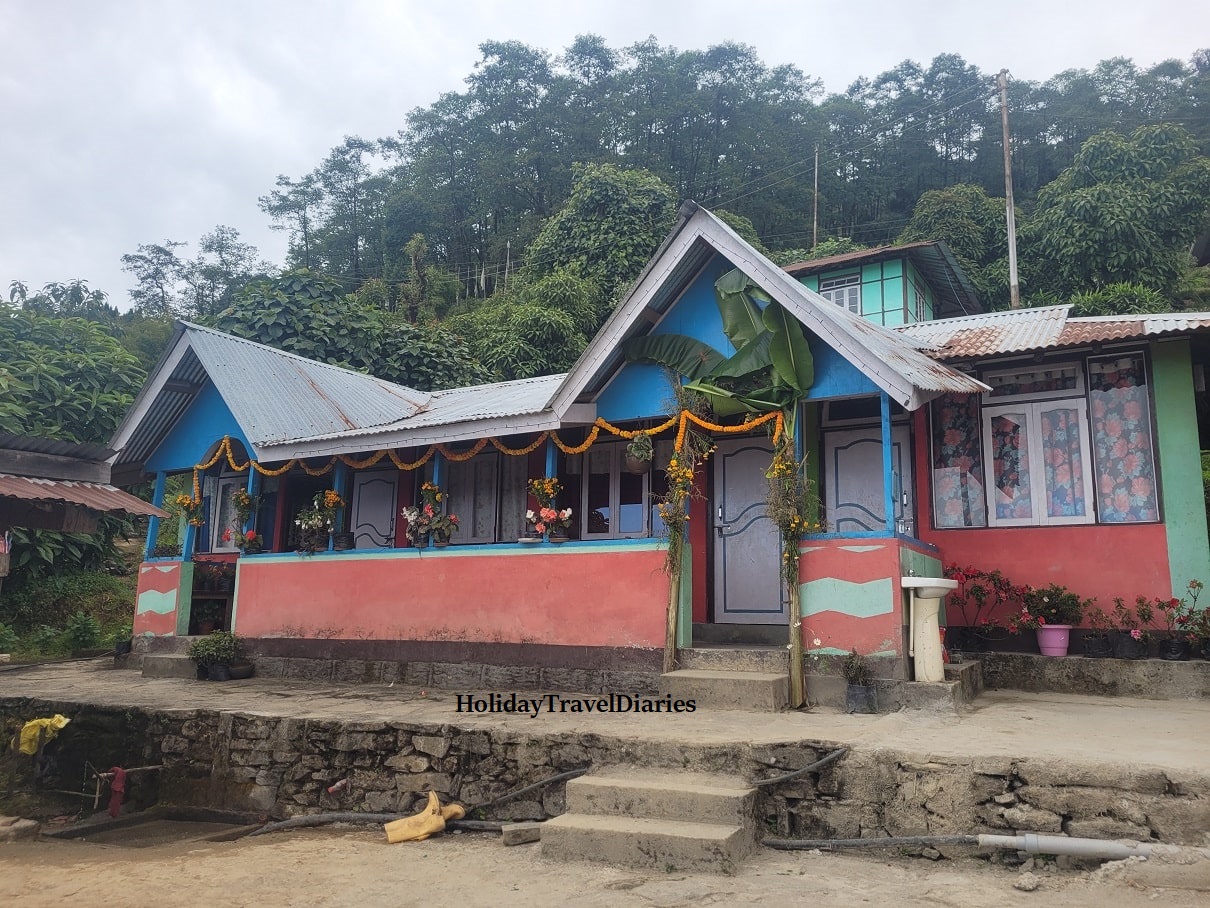 Pithamchin is another village under Lingsey Khasmahal within Kalimpong. It was our last destination on that trip. A shared car is available for Pithamchin from Mulkharka but we decided to go there by trek. Believe me, it was one of the best decisions during the trip. The entire road is downhill as the altitude of Pithamchin is lower than the Mulkharka. We estimated 2 hours for the trek and we reached there in 1 hour and 45 minutes. Guides are also available for this trek but we did not hire a guide as the road was straight and not too difficult.
In the middle of our journey, there was a viewpoint called "Chota Ramitey". It was one of the best viewpoints I visited in my life. The view from the point was spectacular. I can't describe them in words. We spent almost 30 minutes there and took some beautiful pictures.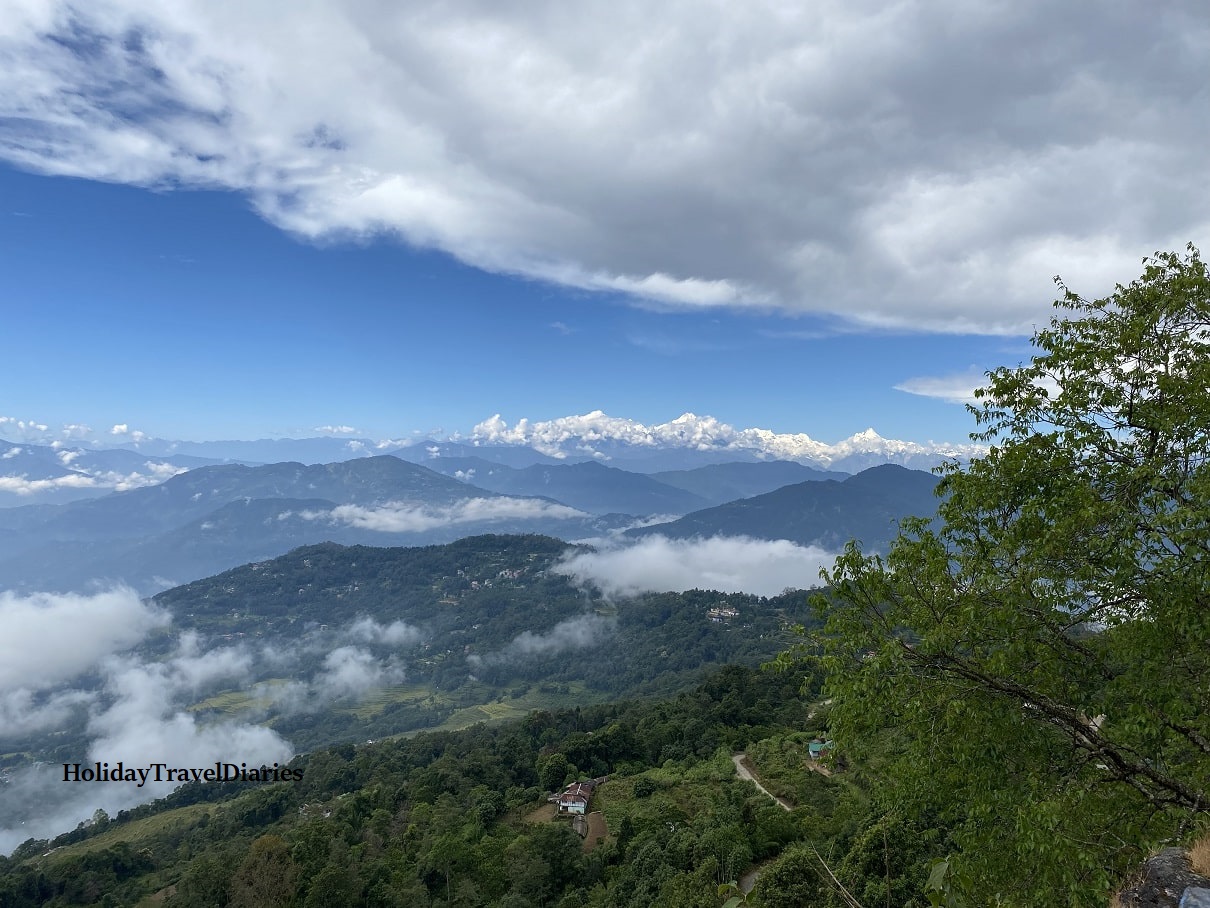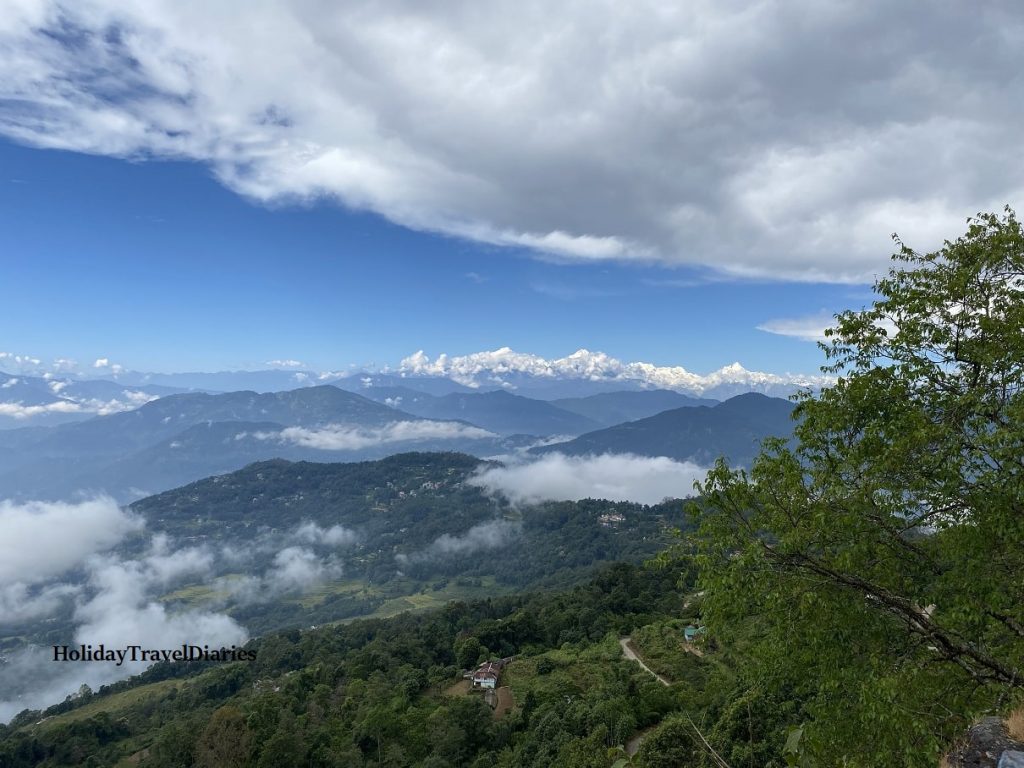 We stayed in "Yatra Homestay" at Pithamchin. Some other homestay options are also available in Pithamchin. They serve home-cooked organic food according to your choice. Well-maintained homestay I can say. There was nothing much for sightseen in Pithmchin. Besides the homestay, you can visit "Sherpa Gumpa". It is a Buddhist prayer temple. We spent some time there in the evening at the time of prayer. It really gives me peace of mind.
Pithamchin Homestay (Yatra Homestay):
Address: Near Sherpa Gumpa, Pithamchin, Lingsay Khasmahal, West Bengal 734319
Contact: 8372835324/ 8145142934
Cost: Rs.1200 Per person/ Day (Breakfast, Lunch, Dinner Included)
Facilities: Clean Room and Bathroom, Gyser for Hot water
Network Available: Jio and Airtel are Both available but not so strong.
At night, we had a long chat with the Lama of the Sherpa Gumpa. It was really great experience to share our thoughts and learn something great from him. It was our last night of the trip.
Day 4: Pithamchin – Rhenock – Rangpo- NJP
The next morning we booked a car from Pithamchin to reach Rangpo. A shared car is also available from Pithamchin for Rhenock. But the problem is it is not very frequent. You have to wait a long for that car. Also, we heard that one car from Pithamchin goes to the NJP directly. It starts around 7 AM and the fare is about Rs.400.
We started our journey at 10.30 AM and visited another viewpoint on the way. From there you can see Aritar lake clearly. It is one of the important lakes in Sikkim. The view was magnificent.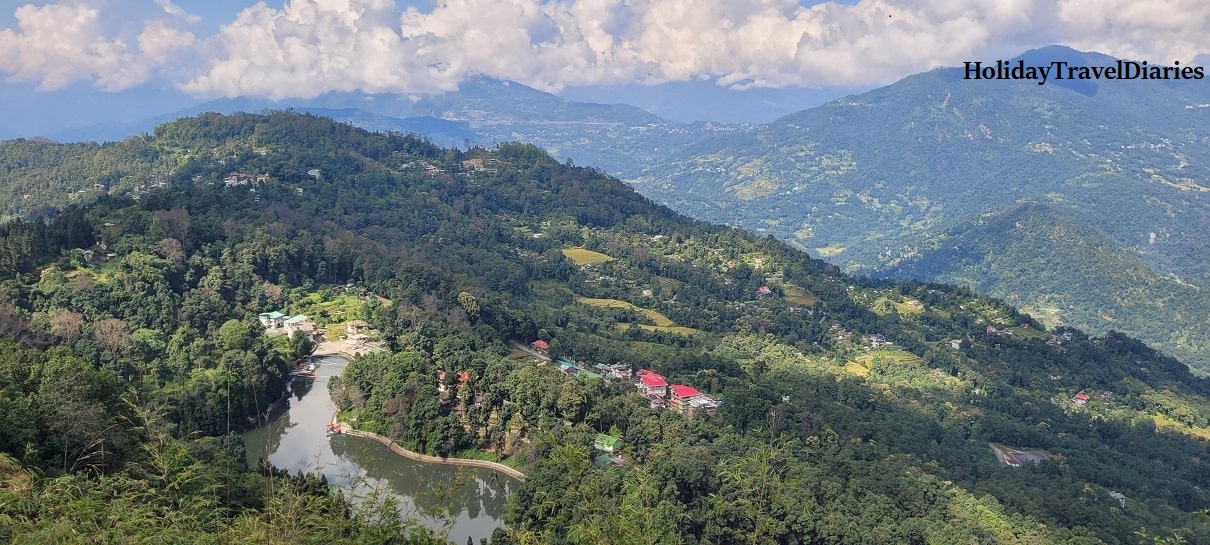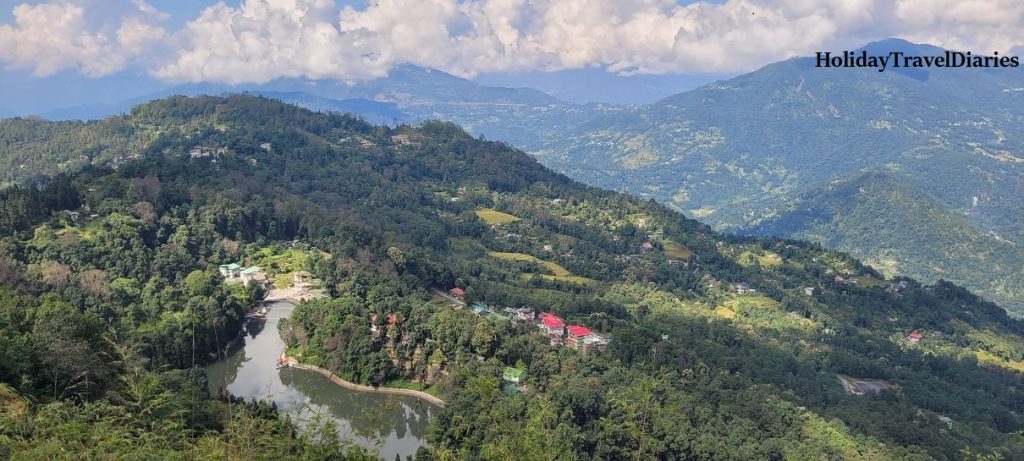 We reached Rangpo around 12 PM. A shared car is available from Rangpo to Siliguri or NJP. We got into one of those cars. It took us almost 3 and a half hours to reach Siliguri from Rangpo. Finally, our trip ended with lots of good memories.
For Quick Reference:
Pithamchin to Rangpo Car Fare: 1500 depending upon the season. (Est Time- 90 Mintues)
Pithamchin to Rehnock Shared Car Fare: Rs.100-120 (Est Time- 1 Hour)
Rangpo To Siliguri Shared Car Fare: Rs.300 (Est Time- 3 hours and 30 Minutes)
Without Trek Option – Siliguri- Rangpo – Rhenock – Pithamchin – Mulkharka
One can visit Mulkharka lake by choosing an alternative method of Trek. A car route is also available up to Mulkharka. But in that case, you don't need to stay at Jhusing as there is no shared or direct car available from Jhusing.
From the above post, you know how to reach Renok from NJP. If you don't want to trek or you are short on time then you can come to Mulkharka via Pithamchin from Rhenock. In that case, you can get a shared car or rent a car. You may have to wait a little longer for shared cars.
Final Words
In this age of social media and smartphones, we have forgotten to take time for ourselves. Mulkharka is ideal for you if you want to get close to nature and spend some time with yourself or your family. It will heal your mind.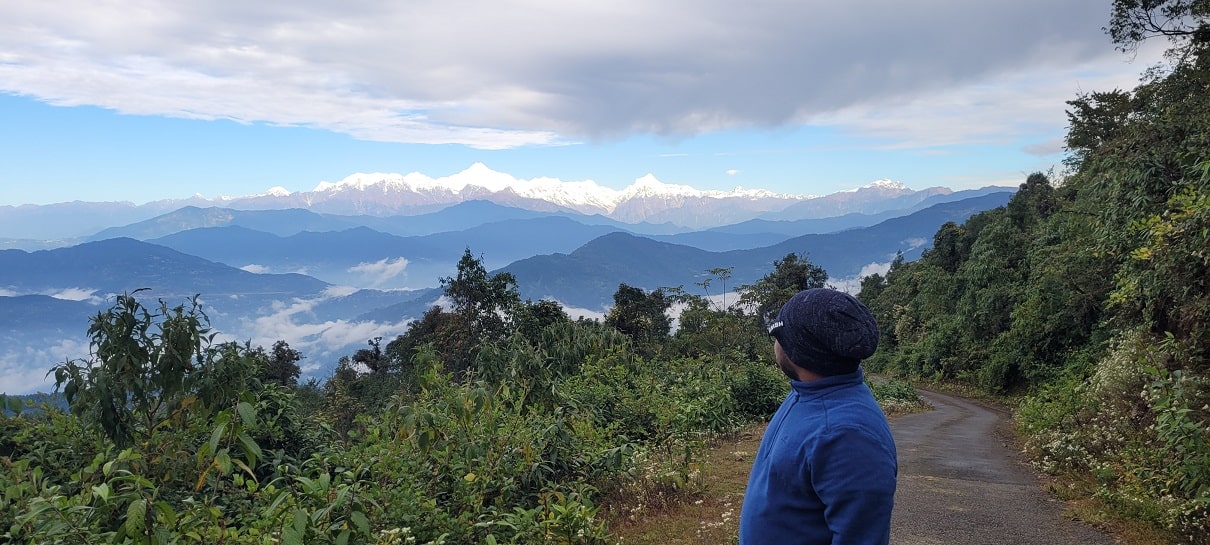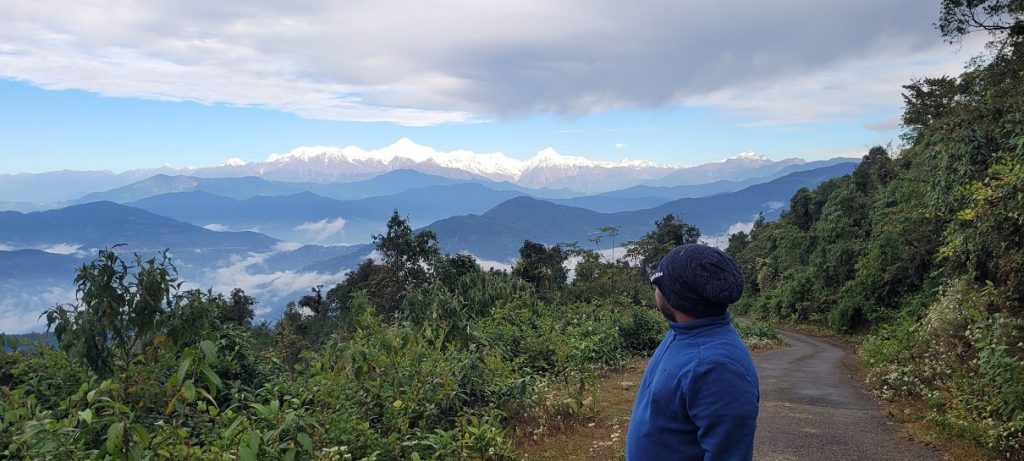 Don't leave garbage and plastic in the mountains. Keep the mountains clean by thinking of the people living in the mountains and the mountain-loving people like you and me so that they can travel in the mountains for the next few thousand years. Remember that whatever you give to the environment you will get back one day.
If you like this content and information then bookmark this blog and if you want you can follow us on Facebook and Instagram. You can also keep the push notification of this website on so you will get notifications on mobile when new posts come.
If you have any comments on this article, please let me know. If you want, you can also send me any necessary message through this form. Stay well. Thanks so much for reading this post.