Tabakoshi Tour – Hidden Treasure of West Bengal
When you hear the name, many people think that the place may be in Japan. It is actually a small village in the Darjeeling hills of North Bengal. Tabakoshi, which in a word is a paradise for nature lovers. Very close to Mirik, this town is the best destination for scenic beauty.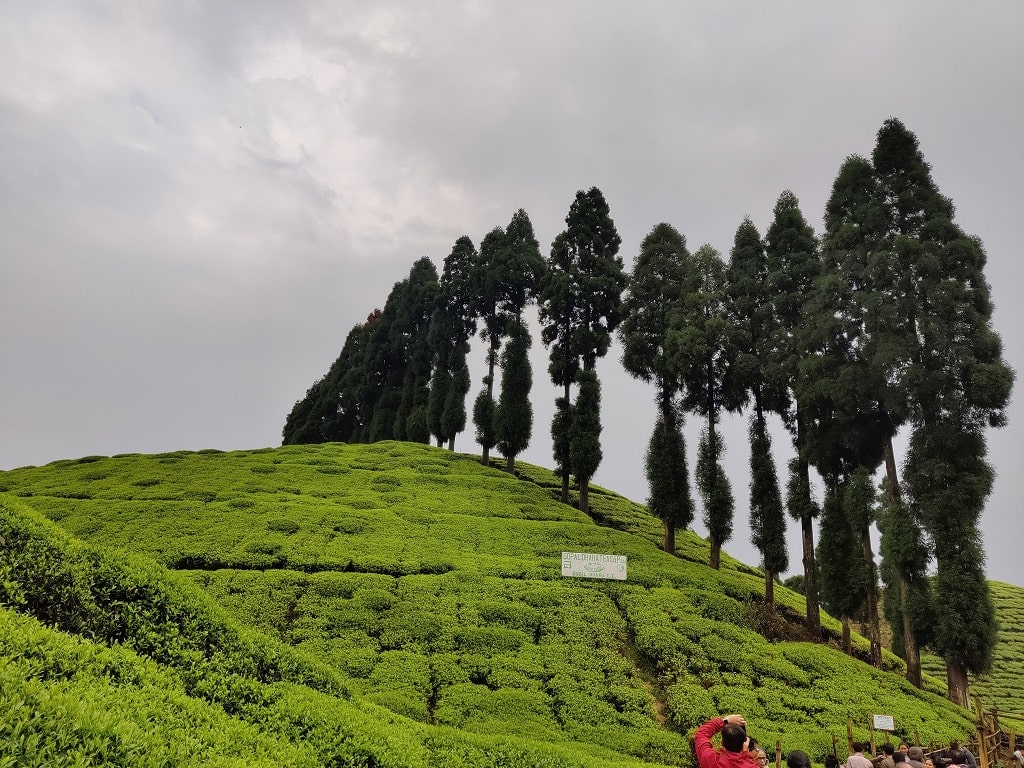 Tabakoshi is located in the lap of a lush green tea garden near Gopaldhara Tea Garden, a few km from Mirik. The Buruding hills and the surrounding natural beauty will captivate the eye. Here tourists can spend a lot of time in the middle of the tea garden.

The chirping of all the unnamed birds, the chirping of the river flowing by the side, the gentle sweetness of the tea garden, Kanchenjunga, and moreover the green nature will bring peace to your eyes. The feature here is that it is not too cold in winter. The maximum temperature here is 16-17 degrees.
Why To Go Tabakoshi ?
Surrounded by most tea gardens, Tabakoshi is a very beautiful place. There are some special parks here where you can pitch a tent and stay overnight if you wish. Inside the garden, there is a very nicely arranged seating area. There are also numerous flower gardens. You can come to the river to see the garden.

The river does not have much water at other times of the year, but during the monsoons, the river becomes very fast flowing. You can swim in the river if you wish. You can see the beauty of the river from the side of the river or from the bridge. The view of this river and its surroundings is truly amazing.

As you walk over the bridge, you will see a Nag Temple (Nag means Snake). The space in front of this temple is quite spacious. You can spend some time sitting in the temple. In the midst of wonderful natural beauty, the spiritual environment will take your mind to another level.

Everywhere you look, there is only green and green. If you have time, you can go from tobacco to Tarjum. The colorful flowers bloom in the middle of the green tea garden, the small hilly temple winding down the hill. For a while, you will forget the busyness of mechanical life. The distance between Tarjum from Tabakoshi is only 30 minutes.
How to Reach Tabakoshi?
By Train: Lots of trains going from Sealdah to New Jalpaiguri. Some of the special ones are Darjeeling Mail, North Bengal Express, New Jalpaiguri Express, Padatik Express, and Kanchanakanya Express. All these trains leave at night and arrive the next morning. Those who want to go in the morning can catch the Kanchenjunga Express, it arrives in the evening.
NJP to Tabakoshi Distance 64.5 Km. From the stations, you can book a private car which takes about 2.30-3 hours to reach depending on the road condition.

For your Information:
Darjeeling to Tabakoshi distance 33 Km. It will take 1.5 hours from Darjeeling to Tabakoshi by car.
Kalimpong to Tabakoshi Distance 71.7 km. It will take about 3 to 3.5 hours from Kalimpong to Tabakoshi by car.

By Flight: To reach Tabakoshi by flight, you can board a flight to Bagdogra Airport (Bagdogra to Tabakoshi Distance 52.5 Km). You can rent a car from Bagdogra to Tabakoshi.

By Shared Car: You can get shared jeeps from NJP or Siliguri to Mirik Bazaar. From there you can take another shared jeep towards Tabakoshi Road which will drop you near the destination within 20-25 minutes.
Things To Do in Tabakoshi
Shiva and Vishnu Temple: In the riverside of Rangbang, there is a temple of lord shiva. One can come here to worship and enjoy the greenery of the surrounding. Also, you will find a Vishnu Temple at Tabakoshi and this is the only Vishnu temple in the Darjeeling district.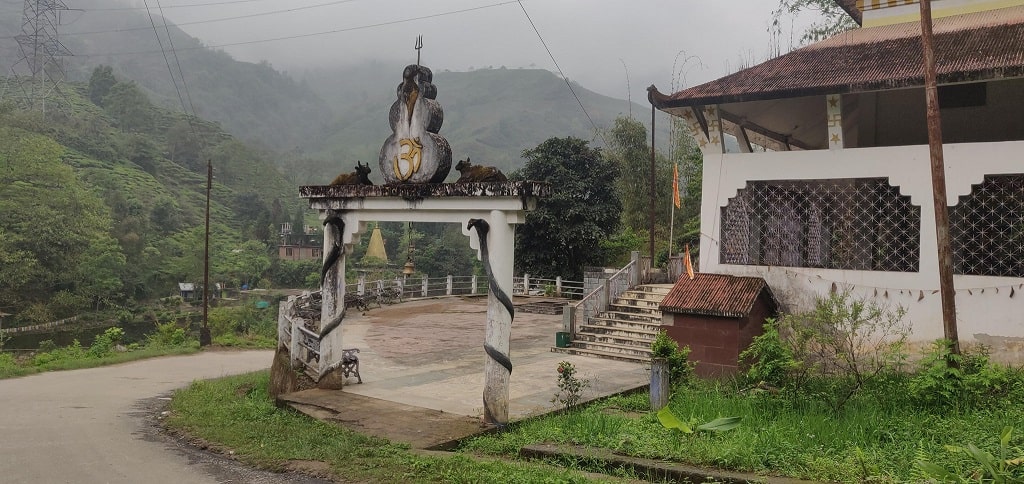 Mirik Lake: Mirik is only a short distance away. You can visit Mirik Lake. This Lake is also known as Sumendu Lake, it is around 6 km away from Taba Koshi.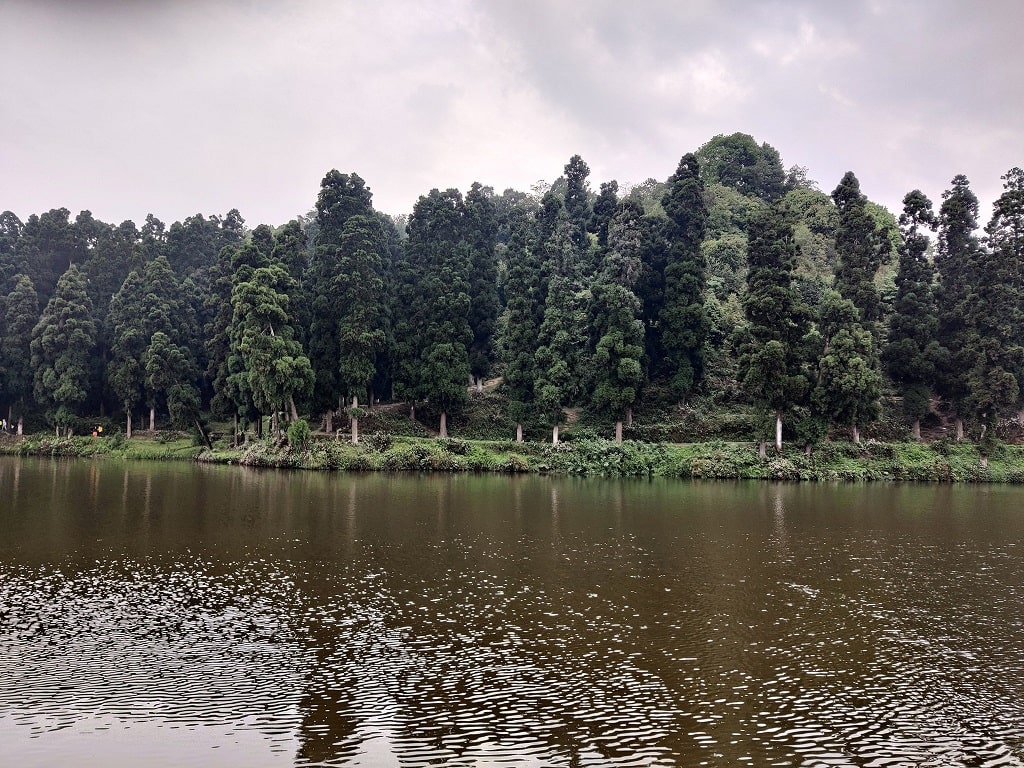 Tea Gardens: Tabakoshi is a part of Goaldhara Tea Estate. Also, there are some popular tea gardens around it. Sangma Tea Estate, Thurbo Tea Estate, etc are some of the beautiful tourist sites. You can enjoy the view of these tea gardens.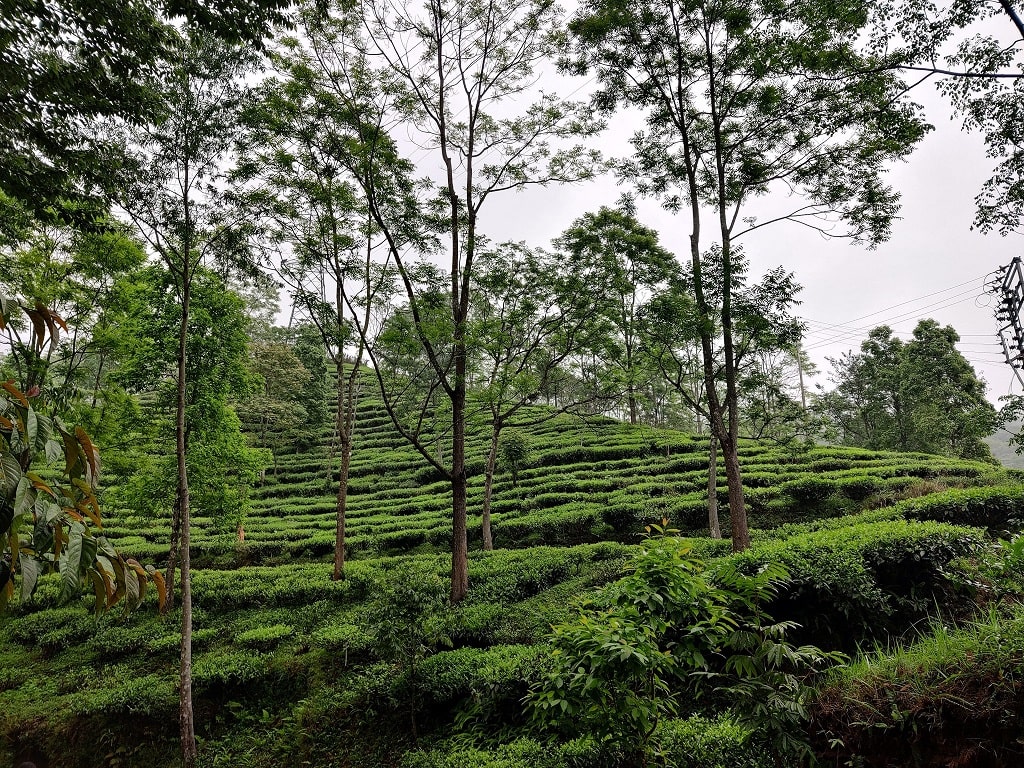 Bokar Monastery: Bokar Monastery is another attraction from Tabakoshi. It is around 9 Km away from Tabakoshi. It is a religious site on the way to Rameetay Dara and is famous as a Buddhist meditation center.
Along the way, you can also visit Pashupati Market across the Indo-Nepal border. The specialty here is the market where you can find Nepali and various foreign items at low prices, you can shop from here. You can also visit Simana Viewpoint from Here.
Mirik Church: Mirik Church is another sightseeing attraction from Tabakoshi North Bengal. It is located near Don Bosco School. One of the most beautiful and one of the bigger catholic churches in the Darjeeling district.

Debisthan: It is a temple of a Hindu goddess located on a hillock near the Sumendu lake. One can visit the temple to seek blessing.
Other Activity Options In Tabakoshi
Tabakoshi is also a beautiful place for bird watching. You can see different kinds of birds here.
The villagers of Tabakoshi practice organic farming. You can experience the process of Organic farming from very polite and well-friendly villagers.
You can also experience riverside camping in Tabakoshi. Some of the homestays arrange for all camping requirements.
You can also do fishing on the river in Tabakoshi. You can ask your homestay owner for fishing equipment.
If you love picnic, you can enjoy a day picnic here. You can ask your homestay owner for all the arrangements. It may cost you some extra money.
You can ask your homestay owner to arrange a hike or a short trek through the river valley and along the river bank. You will surely enjoy them.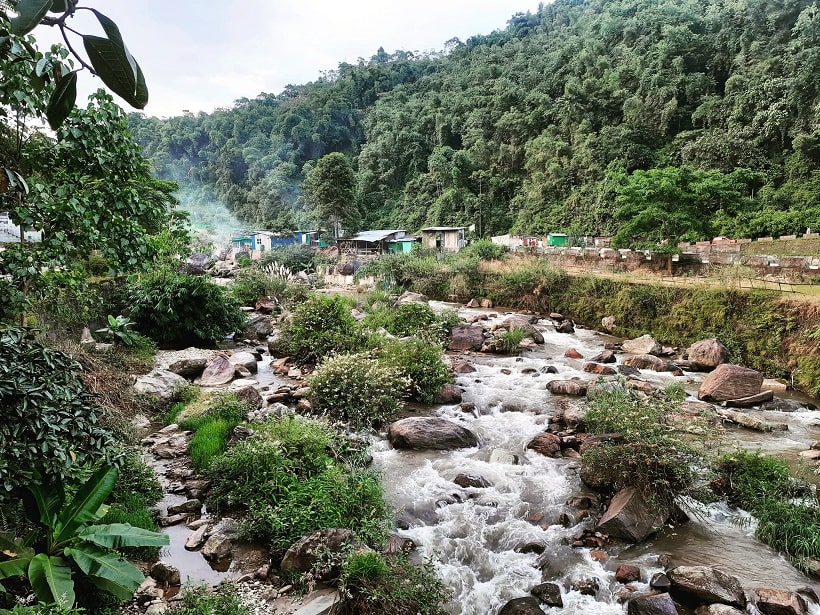 Where to Stay in Tabakoshi?
You can find several homestays and guesthouses in Tabakoshi. You can book them over the phone or face to face. Before you go there I will suggest you speak with one of them at least once.

Tabakoshi homestay rates: It will cost around 1200-1500 per day to stay there depending upon the season.

You will get all kinds of benefits in homestays. You will find hot water, breakfast, lunch, and a clean bathroom. At the same time, you will get the hospitality and love of the people there.
The homestays also arrange for transport for pick up and drop, local sightseeing tours, riverside camping or hikes, bonfires with barbecue in the evenings, etc.
Here, I am sharing the best homestay in Tabakoshi (Tabakoshi resort) and their contact numbers here for your reference.

Tabakoshi Homestay List:
1. Sunakhari Homestay Tabakoshi (7864938583 / 9593793057)
2. Newar Homestay Tabakoshi (8101231622 / 6297117974)
3. Yolmo Homestay Tabakoshi (9593679043 / 8250140380)
4. Tea Village Homestay Tabakoshi (9083111566)
5. Khushi Farmstay Tabakoshi (9434984730 / 8250051060)
6. Riverside Dwelling Tabakoshi Homestay Tabakoshi (062971 46430 / 099033 50037)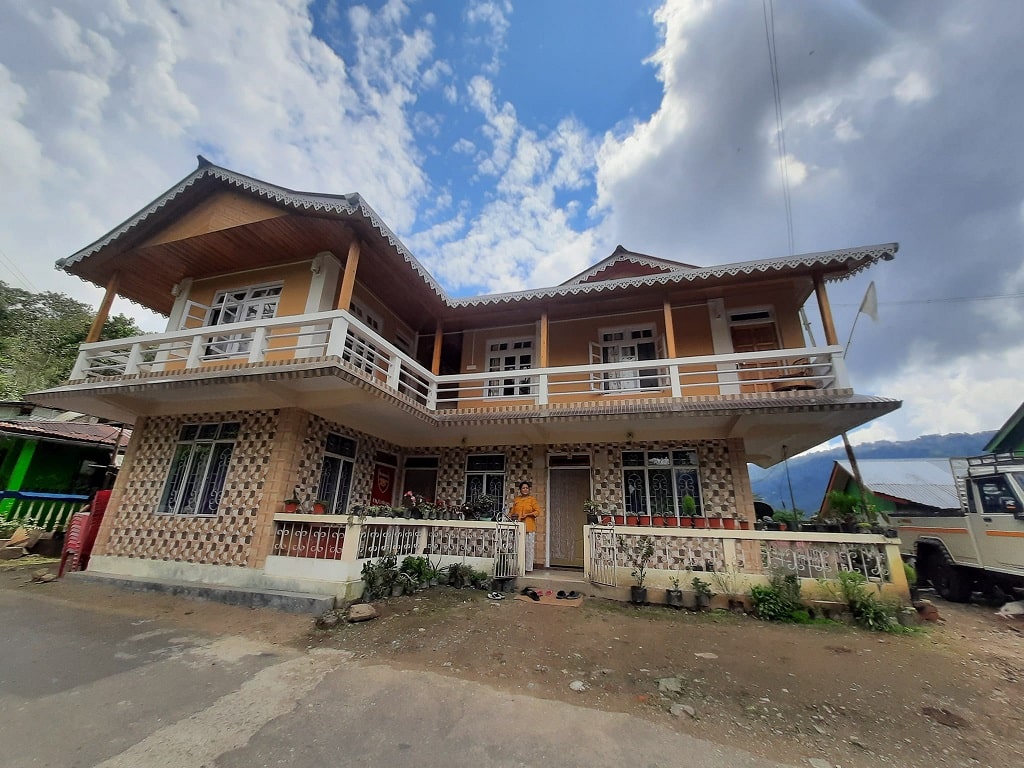 Cost To Travel Tabakoshi
Travel Cost:
NJP to Tabakoshi Car Fare- From NJP you can reach Tabakoshi in two ways.
i) You can rent a private car from NJP to Tabakoshi.
Reserved small taxi from NJP/Bagdogra to Mirik Bazaar: Rs. 2,200/-
Reserved small taxi from Mirik Bazaar to Tabakoshi: RS. 600/-
These fares may vary depending on the season.

ii) If you have a low budget then you can go to a share jeep. In that case, your cost will be reduced a lot. In this case, you need to reach Mirik Bazar first and then another one from there up to Tabakoshi. From Siliguri To Mirik Bazar, the shared car cost will be Rs. 300 per person. From Mirik Bazar to Tabakoshi, the shared car cost will be Rs. 60 per person.

From Darjeeling to Tabakoshi private car costs around 2200 Rupees.

From Bagdogra:
You can reach Tabakoshi from Bagdogra same as From NJP. You can rent a private car from Bagdogra also. In that case, your estimated cost will be around 2500-3000 rupees. These fares may vary depending on the season.
Homestay Cost:
It will cost you around 1200-1500 per day to stay in Homestay. These fares may vary depending on the season. (Camping or hikes, bonfires with barbecue cost different)
Best Time To Visit Tabakoshi
You can visit Tabakoshi any time of the year. However, you can experience different beauty in different seasons. I am sharing some details below.
Summer :
During summers (May/June), the temperature can reach up to 22°C. You can experience the best weather and view of nature during these months.

Winters: Winters are quite cold and chilly here. In the winter, the temperature varies from -1 to -2°C. Winter is fun for avid bird watchers.

Rainy Season: The monsoon season is between Mid-June to Mid-September. This is the off-season here, but this is also the best time to see the river Rangbhang. One can experience the beauty of the Rangbhang river this time of the year. Try to avoid the monsoon season. We don't recommend this season because of the frequent landslides.
Things to Carry While Travelling To Tabakoshi
A travel bag.
A torch.
A slipper.
Travel shoes
Plastic for keeping wet things.
Dry food as needed
Soap paper
clothes according to weather.
Necessary Medicines.
Camera For Taking pictures of Breathtaking beauty.
Important Information About Tabakoshi
Although homestays serve plenty of food, you can keep dry food like cakes and biscuits with you.
Credit or debit card payments cannot be made at most homestays, so keep enough cash with you.
It is better to keep the necessary medicines with you but if you feel ill suddenly, the doctor is available there.
Mobile Network is available there.
Carry at least one ID proof with you.
If you are going for a river bath, please be extra careful.
Winter is very cold here. So remember to carry all your winter wear.
Suggested Tour Plan For Tabakoshi
4 Night 5 Day Darjeeling Kurseong Tabakoshi Tour Plan:
Day 1:
Arrival at New Jalpaiguri Railway Station (NJP) / Bagdogra Airport (IXB) / Tenzing Norgay Bus Terminus (Junction) and transfer to Tabakoshi, Mirik.
Day 2: Tabakoshi Sightseeing Tour and Transfer to Kurseong.
Day 3: Kurseong Sightseeing and Transfer to Darjeeling.
Day 4: Darjeeling sightseeing.
Day 5: Departure Transfer to Bagdogra Airport (IXB) / New Jalpaiguri Railway Station (NJP) / Siliguri.
Frequently Asked Question About Tabakoshi
Can we watch Bird during Tabakoshi Trip?
Yes, you can see various species of birds in Tabakoshi. Winter is the best time for bird watching.
Is there any option for Hiking in Tabakoshi?
Yes, there are 2-3 hiking routes available in Tabakoshi. You can enjoy them easily.
Is any shared car available from NJP to Tabakoshi?
Shared taxis/Jeeps are available from Siliguri to Mirik. You can take a shared jeep up to Mirik and then another one from there up to Tabakoshi.
What is the best way to reach Tabakoshi?
From Siliguri / NJP/ Bagdogra you can book any private car. It will take 2.5 hours to 3 hours to reach Tabakoshi depending upon the road condition.
What is Tabakoshi famous for?
Tabakoshi is famous for its environment, the Rangbhang river, Tea garden, Beautiful temples, riverside campings, and many more activities.
What is the distance between Darjeeling and Tabakoshi?
Tabakoshi is just 33 km away from Darjeeling.
What is the distance between NJP and Tabakoshi?
Tabakoshi is just 64.5 km away from NJP.
What is the best time to visit Tabakoshi?
The best time to visit Tabakoshi is between March to Mid -June, and October to November. This is the time when the weather remains mild and pleasant, and the sky remains clear. However, winter is the best season here for bird watching.
What is the distance between Mirik and Tabakoshi?
Mirik is just 8Km away from Tabakoshi.
Final Words
Tabakoshi is just Eight kilometers from Mirik, now one of the offbeat destinations in North Bengal. 'Tabakoshi' is made up of two Nepali names. 'Tamba' means copper and 'Koshi' means river. The dense jungle on the Rangbhang River looks like a land of copper on the river, hence the village name 'Tabakoshi'. A dense jungle is a combination of pine and birch. But the green tea garden will attract more attention to Tabakoshi than to the forest. And in the winter, you will see orange groves all over the valley.
The unadorned beauty of Tabakoshi has developed on its own as there has not been a gathering like the one in Darjeeling Mirik. So, if you want to spend some time in the middle of nature after getting rid of your mechanical life for a few days, you can visit Tabakoshi on your next holiday.
Special Note: Don't leave dirt and plastic in the mountains. Keep the mountains clean by thinking of the people living in the mountains and the mountain-loving people like you and me so that they can travel in the mountains for the next few thousand years. Remember that whatever you give to the environment you will get back one day.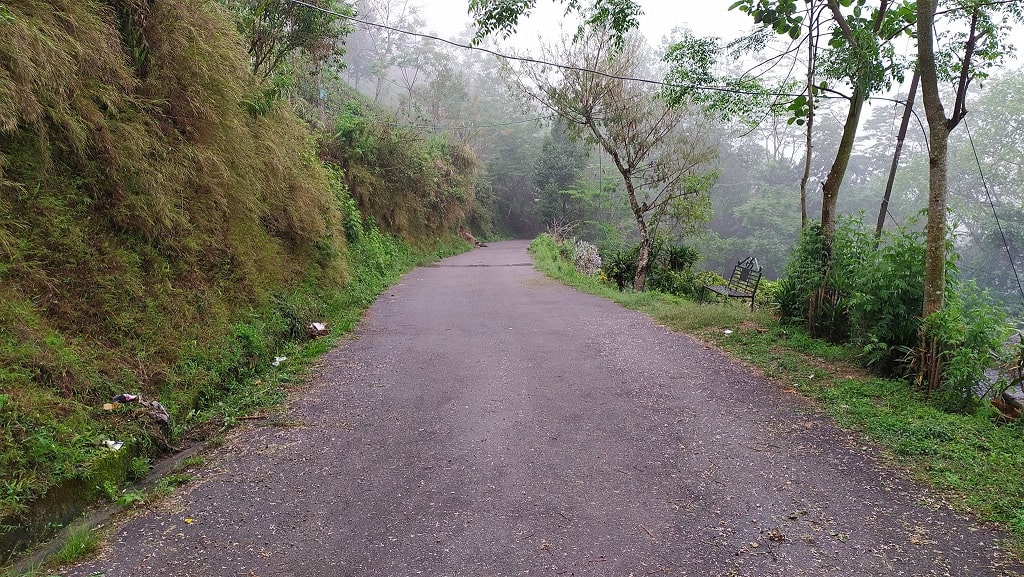 If you like this writing and information then bookmark this blog and if you want you can follow us on Facebook and Instagram. You can also keep the push notification of this website on so you will get notifications on mobile when new posts come.
If you have any comments on this article, please let me know. If you want, you can also send me any necessary message through this form. Stay well. Thanks so much for reading this post.