Bees Gaon Tour – How To Reach, Where To Stay, Places to Visit
Nestled in a pine forest, this traditional wooden bungalow at Bees Gaon is a hidden treasure just 28 km from Darjeeling. A walk from the bungalow takes you to a nursery, tea garden, and some more traditional British bungalows. The sparkling climate at 5000 feet and the surrounding pine forest wilderness make a stay at Moumachi Gaon Bungalows a once-in-a-lifetime experience.
Due to its proximity to Darjeeling, Bees Gaon is also a choice for tourists who want to escape the chaos of Darjeeling but enjoy day trip sightseeing options like Ghum, Batasia, Teesta Valley, Lamahatta, Takdah, and numerous tea gardens like Giel and Rungli Rungliot.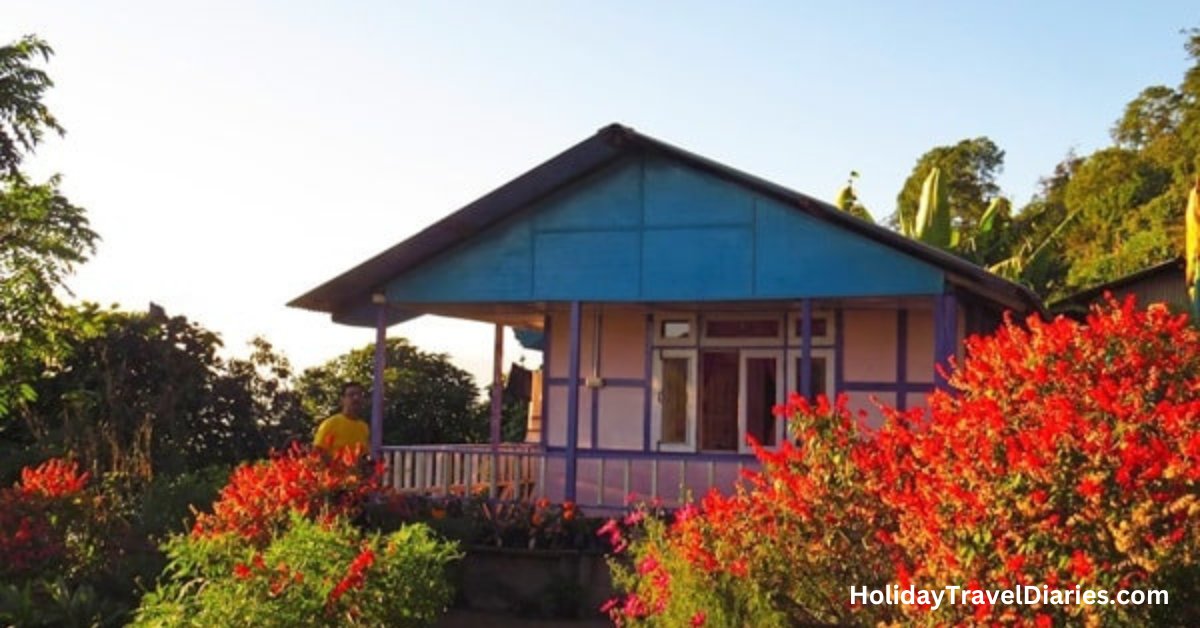 How to Reach Bees Gaon?
By Train: Lots of trains going from Sealdah to New Jalpaiguri. Some of the special ones are Darjeeling Mail, North Bengal Express, New Jalpaiguri Express, Padatik Express, and Kanchanakanya Express. All these trains leave at night and arrive the next morning.
NJP to Bees Gaon Distance is around 100 Km. From the stations, you can book a private car which takes about 3.5 to 4 hours to reach via Darjeeling depending on the road condition.

For your Information:
Darjeeling to Bees Gaon distance 28 Km. It will take 45 minutes to one hour from Darjeeling to Bees Gaon by car.

By Flight: To reach Bees Gaon by flight, you can board a flight to Bagdogra Airport (Bagdogra to Bees Gaon Distance is around 100 Km via Darjeeling). You can rent a car from Bagdogra to reach there.

By Shared Car: You can take a shared jeep from NJP to Darjeeling first. From Darjeeling, you can take another shared car to reach Bees Gaon.
What to see in Bees Gaon?
Bees Gaon falls on the outskirts of the British Cantonment area of ​​Takdah. You can walk to the nearby nurseries and see some of the British heritage bungalows here.
The pine forest surrounding the Bees Gaon is one of its main attractions. A short drive takes you to the newly discovered park area of ​​Lamahatta and the forest village of Tinchuley.
You can wander around tea plantations and visit local monasteries, churches and Tibetan medicine schools.
A morning excursion to the Teesta Valley View point to enjoy the longest view of the Teesta River with the mighty Mount Kanchenjunga towering over it can also be very rewarding.
Things To Do in Bees Gaon
If you are into bird watching and nature photography, Bees Gaon will not disappoint you. You can trek through the forests of Bees Gaon crossing some makeshift bamboo bridges to spot some rare species of butterflies and birds.
If you plan to do nothing and just sit back and enjoy nature, take your favorite novel with you to read your favorite novel while sipping Darjeeling tea on the bungalow lawn.
You can also visit local haats (weekly markets) and local nurseries to buy some orchids and local handicrafts. However, be sure to get up early to Bees Gaon – the sunrise is spectacular from the bungalow!
Nearby Places to Visit in Bees Gaon
The main city of Darjeeling is just 28 km from Bees Gaon, so a day trip to Darjeeling can be on your itinerary.
A day trip from Darjeeling Mall, visit to Kventar and Glenaries, toy train ride, Ghum, Batasia Loop, Himalayan Mountaineering Institute and Zoo.
You can visit Peshok tea plantations just 15 km away or enjoy a day at Bara Mangwa and Chhota Mangwa orange groves about 13 km away.
Where to Stay in Bees Gaon?
There is a heritage wood bungalow in Beesgaon. For the guests, they will offer modern amenities including hot water geysers, adjacent western bathrooms, comfortable beds, and a lounge space with a television. It currently has two triple bedrooms and can accommodate six to eight people without difficulty. One newly built cottage with 2 bedrooms is also available and located just beside the bungalow. Although some visitors undoubtedly choose to have their breakfast served on the well-kept lawn of the bungalow, the food is primarily home-cooked Indian cuisine served in a separate dining hall.
Cost To Travel Bees Gaon
Travel Cost:
From NJP- From NJP you can reach Bees Gaon in two ways.
i) You can rent a private car from NJP to Bees Gaon. In that case, your estimated cost will be around 2500-3000 rupees. These fares may vary depending on the season.
ii) If you have a low budget then you can go to a share jeep. In that case, your cost will be reduced a lot. You can take a shared jeep from NJP to Darjeeling first. Your estimated cost will be around 200-250 rupees. From Darjeeling, you can take another shared car to Bees Gaon.

From Bagdogra:
You can reach Bees Gaon from Bagdogra same as From NJP. You can rent a private car from Bagdogra also. In that case, your estimated cost will be around 3000-3500 rupees. These fares may vary depending on the season.
Homestay Cost:
It will cost you around 1200-1500 per day to stay in Homestay. These fares may vary depending on the season.
Best Time To Visit Bees Gaon
You can visit Beesgaon any time of the year. While the monsoon season is well-liked by tourists who enjoy viewing lush forests and tea plantations covered in mist and fog, the winter is famous for its fresh weather and magnificent sunrises.
Things to Carry While Travelling To Bees Gaon
A travel bag.
A torch.
A slipper.
Travel shoes
Plastic for keeping wet things.
Dry food as needed
Soap paper
clothes according to weather.
Necessary Medicines.
Camera For Taking pictures of Breathtaking beauty.
Important Information About Bees Gaon
Although homestays serve plenty of food, you can keep dry food like cakes and biscuits with you.
Credit or debit card payments cannot be made at most homestays, so keep enough cash with you.
It is better to keep the necessary medicines with you but if you feel ill suddenly, the doctor is available there.
Mobile Network is available there.
Carry at least one ID proof with you.
The bonfire and barbeque cost is different from the homestay cost. You will need to spend extra money on this.
Frequently Asked Question About Beesgaon
Can we watch Bird during Beesgaon Trip?
Yes, you can enjoy the bird-watching activity while walking through the nearby forested area.
Is any shared car available from NJP to Beesgaon?
Shared taxis/Jeeps are available from NJP to Darjeeling and Darjeeling to Beesgaon.
What is the best way to reach Beesgaon?
From Siliguri / NJP/ Bagdogra you can book any private car. It will take 3 hours to 3.5 hours to reach Beesgaon depending upon the road condition. Also, you can take a car from Darjeeling to reach here.
What is the distance between Darjeeling and Beesgaon?
Beesgaon is just 30 km away from Darjeeling.
What is the best time to visit Beesgaon?
You can enjoy the beauty of Beesgaon at any time of the year.
Final Words
Because it is close to Darjeeling, Moumachi Gaon is also a viable option for travellers seeking to avoid the bustle of the latter city while still enjoying day trip sightseeing destinations like Ghum, Batasia, Teesta Valley, Lamahatta, Takdah, and a variety of tea gardens like Giel and Rungli Rungliot.
Leave No Trace: Respect the natural environment and follow the Leave No Trace principles. Dispose of waste responsibly, return any non-biodegradable items, and avoid littering. Respect the flora, fauna, and local communities by walking lightly and leaving little impact on the environment.
If you like this writing and information then bookmark this blog and if you want you can follow us on Facebook and Instagram. You can also keep the push notification of this website on so you will get notifications on mobile when new posts come.
If you have any comments on this article, please let me know. If you want, you can also send me any necessary message through this form. Stay well. Thanks so much for reading this post.